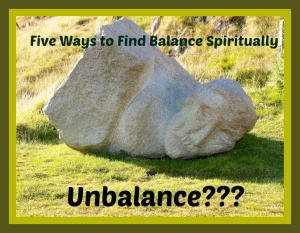 As I sat at the table at the blogging conference I attended in September, our initial enthusiasm waned. How would we get all these great ideas implemented?
 One of my new friends sighed, "Really, how do we balance all the demands of writing, family, faith, working and the world?"
I hear this all the time in our conversations with others. Most of us do struggle with juggling all the wanted and needed obligations in life – demands from the outside and expectations from others and even self-imposed mandates. We give and give our time and energy to others, then wonder if and when we can carve out a moment or two to work on our dreams.
   And where does God fit into this? I have every good intention of starting my day with him in prayer, silence and study and many times do meet him early. But way too often I find myself not even thinking of God until late afternoon, or with a quick prayer in the car or as I crash into the bed at night. When I do practice centering prayer or contemplative prayer, my spirit is refreshed.
   Where do we find spiritual balance?
   I have been thinking about this lately, especially since it keeps coming up in discussions. I know it is a life long lesson to learn and will never reach perfection, but I prayed and wondered how I could do better in this arena. I gathered five ways to find spiritual balance and thought I would share them with you today.
Listen first to God. I will quit the yapping at the Lord, telling him what I need help with my schedule and just listen quietly to the inklings where he is leading. I find writing in my journal gives me additional clarity when seeking his guidance on how to find balance. I may write about what does spiritual balance look like to me? What would be the description of my ideal day to live spiritually balanced? Surprise me, Lord! I ask God for insight to peace, feeling grounded and turning in the direction he is leading me. I hold in my heart who I am as a child of God and who I belong to.
Seek the fruit of the spirit. Often I sense I am in the right place when the fruit of the spirit drench my soul – joy, peace, kindness, faithfulness, gentleness, goodness, self-control, patience and love. Where is this missing in my life right now? How could I taste them again in this situation?
Listen to God first, then listen to my human body. To be honest when I don't feel balance, I am usually physically and emotionally out of shape too. Rest. Exercise. Good nutrition. Deep breathes. Remembering to honor the Sabbath. Laugh. Do nothing. Accomplish something. Whatever calls me back to wholeness.
Am I serving others or just letting my ego drive the bus?  I am restored when serving others as I am called. Look outside of myself. Seeing the other person. Savoring God's creative nature. Playing with my grandkids. Laughing with friends. Making new friends. Looking up at the clouds. Often restoration of my spirit comes not taking on another duty but in being mindful to whomever God brings across my path and being present for them.
Am I following my rule for life? Several years ago I wrote a personalized rule of life – intentionally putting into writing my values and beliefs. No hard rules or laws or statements to feel guilty about, but a declaration of values that are most important to me. Too often I fall victim to the urgent, the to-do list, the never-ending quest of accomplishment and forget to be mindful of the present and what I deeply value. To deliberately put time and energy into where I am called and to what and whom I love brings meaning and purpose of my life.
"Man, as a spiritual being, cannot be maintained in strength, uprightness, and peace
except if he periodically withdraw himself from the outer world of perishable things
and reach inwardly towards the abiding and imperishable realities."
James Allen 
"Happiness is not a matter of intensity, but of balance, order, rhythm and harmony."
Thomas Merton
What tips or words of advice can you share about spiritual balance?