For God so loved the world
that he gave his only Son,
so that everyone who believes in him
may not perish,
but may have eternal life.
John 3: 16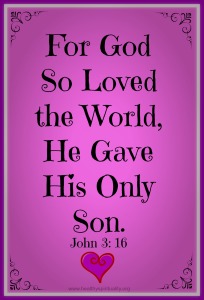 For God so loved the world…
Lord, there isn't much more I can say after reading, pondering, holding these words near my heart.
You just didn't love the world – you SO loved the world.
You didn't just give us your son – he was your ONLY son.
Staggering sacrifice.
Amazing love.
You gave us your all in order to give us even more – eternal life with you.
Forgive my time of neglect, anger and doubt.
Thank you for your mercy and grace for the times I whine, beg, and bargain.
Gratitude surrounds my heart for your compassion, understanding and acceptance of my wandering ways.
You so loved the world.
You so loved each of us.
You so loved insignificant wisp of breath and blip of time – me.
You, who is love, gave us love so we can love with you forever.