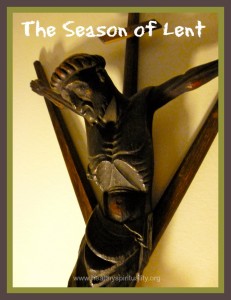 Henri Nouwen wrote this Lenten prayer, which is so fitting as we get ready for Lent as it starts next week.
"The Lenten season begins. It is a time to be with you, Lord, in a special way, a time to pray, to fast, and thus to follow you on your way to Jerusalem, to Golgotha, and to the final victory over death.
I am still so divided. I truly want to follow you, but I also want to follow my own desires and lend an ear to the voices that speak about prestige, success, pleasure, power, and influence. Help me to become deaf to these voices and more attentive to your voice, which calls me to choose the narrow road to life.
I know that Lent is going to be a very hard time for me. The choice for your way has to be made every moment of my life. I have to choose thoughts that are your thoughts, words that are your words, and actions that are your actions. There are not times or places without choices. And I know how deeply I resist choosing you.
Please, Lord, be with me at every moment and in every place. Give me the strength and the courage to live this season faithfully, so that, when Easter comes, I will be able to taste with joy the new life that you have prepared for me. Amen."
Looking for some new ways to enhance Lent this year? I am going to make a list of 40 attributes of God. I hope to take one each day to hold in my prayers first thing in the morning and then try to live that quality as the day progresses.
Quite smiling. No, I am not going to try omniscience or never-changing or over the top-only-God-can-be ones, but things like love, mercy, forgiveness, goodness, and generosity. I know some days will be challenging and with God's sense of humor and perfect timing, I reckon the day I am trying out patience will be filled with impatience.
I've been searching some of my favorite websites for ideas for Lent. Here are some resources:
Lent is a time of transformation. Letting go. Drawing closer to God. It is a time for becoming intentional in our faith practices and a time of preparation, as we get ready to meet the Risen Christ.
May this season of Lent drench you with blessings as you remember you are a loved child of God.
May this season of Lent stretch you out of your comfort zone and wake you up from your complacency.
May this season of Lent seal your brokenness with God's healing and tender love.
And may this season of Lent open new worlds for you to explore and find God waiting for you.
How do you plan to grow during Lent this year?