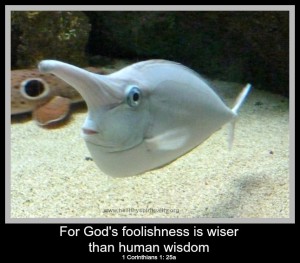 "For God's foolishness is wiser than human wisdom,
and God's weakness is stronger than human strength.
1 Corinthians 1: 25
Make me your fool, Lord.
Then I will know your wisdom.
Make me weak, Lord.
Then I will know your strength.
How senseless of me to even ask these prayers as I am already unwise in so many ways.
Even in my most brilliant moments where I falsely believe I am in control, I am clever, I am tough – even then I am out of my league.
I need your wisdom, Lord.
I desperately rely on your strength.
I am nothing without you.
The world tells us we can do it all. We are strong. We are rulers of our fate.
The evil one whispers we have the power on our own and we are in charge.
But I am nothing without you.
Come, Lord, show me how to be your fool.
A fool for God.
A weakling in your shadow.
Help me let go of human wisdom and embrace your foolishness.
The world may call me a fool for believing the irrational concept that God would come to earth as a human. Not only to descend into our meager form, but they shout as silly to say that God also suffered and died for our sakes. Then to top it all, that on the third day, God arose, conquering death once and for all – all crazy madness.
But I believe.
And I know I am nothing without you.
Let me always be God's fool.