For the foolishness of God is wiser than human wisdom, and the weakness of God is stronger than human strength.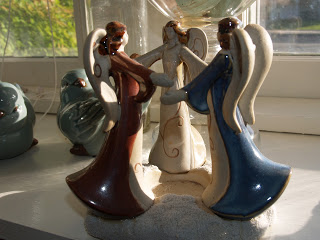 The foolishness of God? Lord what does that mean? 
Is it irreverent to think of You, as foolish?
Yet the verse tells me Your foolishness is wiser than any human wisdom.
How many times in my life have I asked You for answers? For guidance? For wisdom?
I should have been asking You to shower me with Your foolishness!
Pour out upon us Your upside-down view of how we should live.
I marvel at the strange idea of God coming to earth as a baby, the lessons and messages Jesus, Your son, modeled for us with His life, and the incredible feat of Easter morning conquering death forever.
Ages ago nothing existed until You exploded creation and set Your plan in motion. Did the angels dance with glee, celebrating Your foolishness that day, Lord?
I know I am not strong enough, even on my best days, to follow You completely. 
I need You, Lord.
Your foolishness saves me from my own stupidity. Your light glistens through my cracked inadequacies.
What I cannot do, You do.
What I cannot be, You are.
May I abandon any false pretense of wisdom I cling to and live each day in the foolishness of God!