Let us test and examine our ways, and return to the Lord.  Lamentations 3:40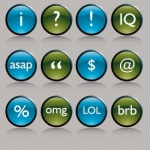 Let us test.
Lord, today's verse made me smile.
When I first read it I thought it said, "
Let us text.
"
Yep, I thought you were finally giving me the go-ahead to add text messaging to my phone.
I am so sorry. I am too much of this world and not of Your world.
I wonder what else I assume about your living Word, Lord.
Clear the mud from my eyes, Lord, to see You better.
Help me test my thoughts and my behaviors, and examine my ways more closely.
Turn my heart and mind back to You and not the traps of the world or the snares of my ego.
And Lord, if you did text me, I think your message would be LOVE.