March is Women's History Month or should I say Women's Her-story Month.

 

The Tuesday and Friday posts this month will feature women who led lives that could serve as models for us in our Christian walk. It was difficult to narrow the list for the few dates in March but I did try to find some women you may not know very well and women writers.

 

Enjoy!
We start Women's History Month featuring a remarkable woman from the Middle Ages.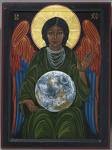 Hildegard of Bingen
was born in 1098. The tenth child of a noble family, she was dedicated at birth to the church as was the custom of the day.
At age eight she was sent to live with Jutta, an anchoress so she could get her religious education. An anchoress is like a religious recluse who spent most of her days in prayer in her tiny private cell.
When Jutta died years later, Hildegard became prioress of the Benedictine convent.
In 1141 Hildegard began to have vivid visions of God that blessed her with an understanding of the meaning of religious texts.
Later she wrote, "
It happened in the year 1141…when I was 42 years old that the heavens opened and a fiery light of the greatest brilliancy coming from the opened heaven poured into all my brain and kindled in my heart and my breast a flame… and suddenly I knew and understood the explanation of the Psalter, the Gospels and other Catholic books of the Old and New Testaments
."
Her most famous writing is
Scivias

or
Know the Ways of the Lord
. It is a visionary guide to Christian doctrine covering everything from creation to marriage and is written not in ordinary language but in extraordinary images.
Not only did she write down her visions and attend to the administration of the convent, she wrote plays, two biographies on saints, and composed music. She travelled to Paris to study medicine and completed a medical encyclopedia and handbook. She also delved into the use of plants and was an expert in pharmaceuticals. She even conducted four preaching tours throughout Europe.
Hildegard of Bingen, through her many letters, took to task the German Emperor Frederick Barbarossa, but also the archbishop of Main. She wrote to such luminaries as King Henry II of England and his wife, Eleanor of Aquitaine. She also corresponded with many individuals of low and high estate who wanted her advice or prayers. Many abbots and abbesses asked her for prayers and opinions on various matters even though she would also scold them.
When Hildegard died in 1179, her sisters claimed that two streams of light appeared in the skies and crossed over the room in which she was dying. Her whole life was characterized by light.
A few years ago I had the opportunity to visit Germany and several locations where Hildegard lived and served. Several moments I knew she walked with me as I explored the ruins of her first monastery.
What a woman of achievement!
Selected Quotes:
A human being is a vessel that

God

has built for himself and filled with his inspiration so that his works are perfected in it.
God is not subject to such a thing as time.
Thus am I, a feather on the breath of God.