Watching a grandchild provides endless life lessons.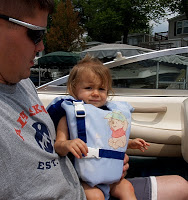 I realized this last Saturday when I grabbed the camera to capture Kyla's first boat ride on Hamilton Lake.
(By the way she doesn't look too happy in these photos and really wanted a nap instead of a strange bumpy trip on water. She did enjoy the second boat ride later in the day with giggles and smiles.)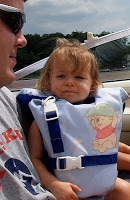 How we love to celebrate a child's firsts in life
! Think of them all – the first tooth, the first haircut, the first walk, the first day of school. We clap our hands, take lots of photos and maybe have a party. We inscribe the event into our memory for safekeeping and honor the moment.
Why have we as adults forgotten to honor firsts in our lives?
I don't like to think that we have no more firsts after we reach a certain age. I think I quit noticing and don't take the time to recognizing new onsets in my life.
I believe in life long learning – so the first time you read a new word, pondered a new idea, or learn a new skill should be celebrated.
How about the first time you accomplished a dream? Revel in the feeling of accomplishment.
Try a new food or traveled to a new place lately?
Pause to honor that blessing.
I also think there are many "firsts" around us waiting to be discovered -the first robin of spring or the first dip in the ocean on the first day of vacation.
How about everyday firsts?
Last Sunday I experimented with a first. I decided to celebrate the first non-family member I met entering into church and hold that person up in prayer that day and the rest of the week. I saw Martha in the kitchen as soon as I came into the building. She even sat right in front of me during worship, so I had no excuse not to remember to pray for my selected "first" of the day. Each day this week I smiled as I held her up into the presence of God in my prayers.
I like this way of celebrating a first in my life and plan to keep my eyes open for more moments to capture, honor, and hold as precious debuts.
  C
elebrating either a child's or an adult's "first" makes me feel more alive.
How about you? Any firsts you want to celebrate?