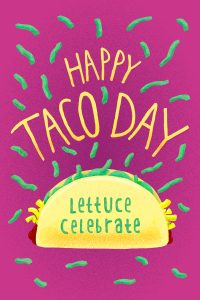 I'm thankful for tacos.
Did you know, not only is today fondly called Taco Tuesday, but tomorrow, October 4, is National Taco Day?
When you read this post, I will just be getting back from vacation so thought we'd need a light reading today. Let's have some fun with this idea!
Taco Trivia
In 2016, Americans ate over 4.5 billion tacos!  That's 490,000 miles of tacos, which could take you to the moon and back or, if you prefer, could, at 775-million pounds, equal the weight of two Empire State Buildings.
No one really knows the full history of this yummy meal, but some experts report that the word "taco" came from the silver mines in Mexico in the 18th century. Tacos were the little explosives, pieces of paper wrapped around gunpowder and place into holes in the rock. When detonated, the ore was easier to extract. Yeah! I've eaten some hot sauce that exploded in my mouth, too.
Others say the taco predates the arrival of the Spanish in Mexico during the 16th century. They have found evidence suggesting early people living there ate fish tacos.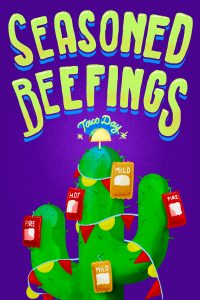 One unusual variety of taco is called Tacos de Cabeza, which are the brain, tongue, eyes and lips of a cow's head.  Ah, no thank you.
How about a taco named after our pastors? Taco al Pastor means shepherd's style and is popular in Mexico. It generally consists of spiced pork, which is cut in slivers from a vertical spit over an open flame.
Silliness aside, I am thankful for tacos. Grateful for food on my table. I appreciate the sense of taste and smell to enjoy my food.
Today I offer up to God a simple prayer of thanks for daily nutrition. For all those ordinary items, we take for granted: corn, flour, tomatoes, lettuce, onions, and beans. Too often we don't take the time to value the everyday blessings we are given.
Today I am thankful for tacos. Happy Taco Day!!
What everyday item are you thankful for today?