"For the gifts and the calling of God are irrevocable."
Roman 11: 29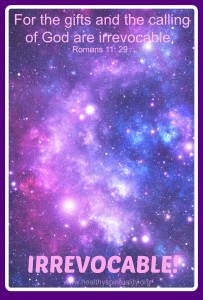 Lord this verse stopped me cold this morning. 
Irrevocable?
You mean the gifts you have given me are final, unchangeable?
The calling I have experienced from you – they are irreversible and fixed forever in your kingdom.
I can't quit?
I can't stamp them with "return to Sender?"
I can't deny them?
In your compassionate benevolence, you give everyone gifts. What an adventure life becomes to discover your hidden treasures and to take them into your world.
You call each of us in unique and matchless directions. Others need us to answer that call permanently etched onto our hearts by your fingers and love.
Guess this means you can't and won't take these gifts and vocation back either. You have deeply and eternally wired us as you designed us.
Irrevocable – are your gifts.
Irrevocable – is your calling.
Irrevocable – is your love.