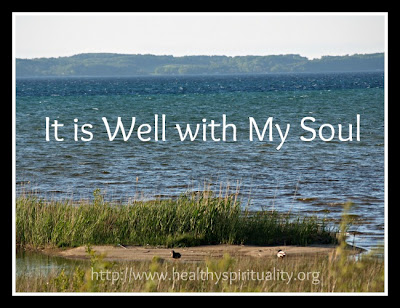 We helped our son and daughter-in-law moved into their new home outside of Chicago and then went to church with them on Sunday. Proud mommy moment: watching through tears my pastor son praying, preparing and distributing communion. 
But it was the music that captured my heart and enfolded me into worship of our King and Lord yesterday. One particular hymn  – its words, its story and its music – felt like God and I were having an intimate conversation, just between the two of us. Peace swirled in my heart and filled that empty place I keep hidden away.
The hymn?  It is Well with my Soul
A Chicago lawyer, Horatio G. Spafford, a man who had suffered almost unimaginable personal tragedy, wrote this hymn. He was also a devout Christian and faithful student of the Scriptures.
The Spafford's only son died from scarlet fever when he was only four. He lost most of his real estate holdings in the Great Chicago Fire of 1871.
He knew his family needed something for some rest and relaxation after all that trauma, so he decided to take his wife and four daughters to England
The Spaffords traveled to New York in November 1873 where they were to catch the French steamer 'Ville de Havre' across the Atlantic. Yet just before they set sail, a last-minute business development forced Horatio to delay. Not wanting to ruin the family holiday, Spafford persuaded his family to go as planned. He would follow on later. With this decided, Anna and her four daughters sailed East to Europe without him.
On November 2nd 1873, the 'Ville de Havre' had collided with 'The Lochearn', an English vessel. It sank in only 12 minutes, claiming the lives of 226 people, including all four of the daughters,
Nine days later, Horatio Spafford received a telegram from his wife after she landed safely in Wales. It read: "Saved alone."
Upon hearing the terrible news, Horatio Spafford boarded the next ship out of New York to join his bereaved wife. During his voyage the captain of the ship had called him to the bridge. "A careful reckoning has been made," he said, "and I believe we are now passing the place where the de Havre was wrecked. The water is three miles deep."
Horatio then returned to his cabin and penned the lyrics of his great hymn.
When peace, like a river, attendeth my way,
When sorrows like sea billows roll;
Whatever my lot, Thou hast taught me to say,
It is well, it is well with my soul.
with my soul (with my soul),
It is well, it is well with my soul.
Though Satan should buffet, though trials should come,
Let this blest assurance control,
That Christ hath regarded my helpless estate,
And hath shed His own blood for my soul.
My sin, oh the bliss of this glorious thought!
My sin, not in part but the whole,
Is nailed to His cross, and I bear it no more,
Praise the Lord, praise the Lord, O my soul!
For me, be it Christ, be it Christ hence to live:
If Jordan above me shall roll,
No pang shall be mine, for in death as in life
Thou wilt whisper Thy peace to my soul.
And Lord haste the day, when my faith shall be sight,
The clouds be rolled back as a scroll;
The trump shall resound, and the Lord shall descend,
Even so, it is well with my soul.
with my soul (with my soul),
It is well, it is well with my soul.
Those words… the music… the tear filled meaning behind this hymn soothed my soul yesterday. What a prayer for us everyday:
How does this hymn speak to your heart?