"When those hired about five o'clock came, each of them received the usual daily wage.
Now when the first came they thought they would receive more; but each of them also received the usual daily wage…
Am I not allowed to do what I choose with what belongs to me or are you envious because I am generous?"
Matthew 20 9-10, 15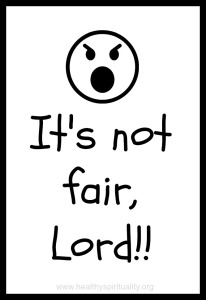 It's not fair, Lord.
I am a good girl. Well, most of the time, I try to make the proper Godly decisions.
I bite my tongue when I want to lash out in anger or revenge.
I don't gossip – or at least less than some I know.
I try, I really do.
Tonight I stomp my two-year-old feet and complain with the most whiny voice I can, mispronouncing my protest due to my pouting lower lip.
Yes I am jealous when others get book contracts.
I admit my envy when my friends lose weight or reach their weight watcher goal.
I crave the granite backsplashes and large master baths on HGTV.
You ask if I am resentful when you are generous with your grace, gifts and love?
The answer is a loud YES.
I confess my envy.
But it is your other statement that shatters my ego and reminds me who I am and who you are.
"Am I not allowed to do what I choose with what belongs to me"
Sigh…
Lord, please forgive me. Yes of course you, God of all the universe, have every right to choose to do whatever you want with what belongs to you.
My heart begins to remember when I received what I didn't earn and when you protected me beyond reason.
I take my place in your shadow, knowing your love and grace falls lavishly on everyone, including me.
Grace is never deserved – only freely given.
What is not fair is my insistence on being first when you honor all.
Lord, you are more than fair – you are generous.
And I am grateful for your forgiveness and ongoing gracious kindness.