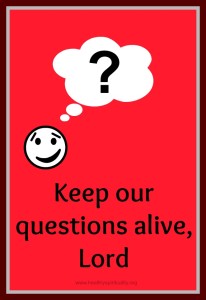 It seems to me Lord
that we search much too desperately for answers,
when a good question holds as much grace as an answer.
Jesus,
you are the Great Questioner.
Keep our questions alive,
that we may always be seekers rather than settlers.
Guard us well from the sin of settling in
with our answers hugged to our breasts.
Make of us a wondering, far-sighted, questioning, restless people
And give us the feet of pilgrims on this journey unfinished.
~~Macrina Wiederkehr