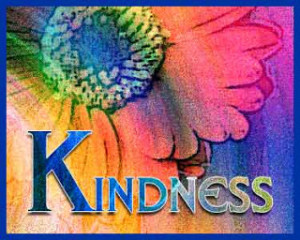 Kindness is a gift that doesn't cost us anything yet can change the world.
How will you practice kindness today?
Have you even heard of National Waiter and Waitress Day? Well we missed it already as this special day of recognition was May 21, BUT there is always an opportunity for kindness to be shared with the wait staff who serve us our meals.
Ever since I learned how Catherine of Sienna described the Trinity in this unusual way, I have been more mindful of those who serve us meals. She used the image of the banquet: God is the table, Jesus the food and the Holy Spirit the waiter/servant. Here is her prayer:
"By this light I shall come to know that you, eternal Trinity, are Table and Food and Waiter for us. You, eternal Father, are the Table that offers us food, the Lamb, your only-begotten Son. He is the most exquisite Food for us, both in his teaching, which nourishes us in your will, and in the sacraments that we receive in Holy Communion, which feeds and strengthens us while we are pilgrim travelers in this life. And the Holy Spirit is a Waiter for us, for he serves us this teaching by enlightening our mind's eye with it and inspiring us to follow it.
Doesn't that cast a waiter/waitress in a divine light?
Do not forget to show hospitality to strangers, for by so doing some people have shown hospitality to angels without knowing it.
Hebrews 13: 2
I always try to smile, listen, and look the waitress/waiter in the eyes. I greet them using their name if they share that. Kindness is making that human connection with another.
[bctt tweet="Kindness is making that human connection with another. Jean Wise " username="Jeanwise"]
My middle child, Katie, was a waitress in high school and college. As a family we began to notice and appreciate what a hard job working in restaurants can be. It requires physical, mental and emotional work to serve others and often they are caught in the middle of sour customers, slow kitchens and not enough help.
Make a special effort to be kind to others, especially those that wait on us in restaurants. Smile at the clerk that checks us out in stores. Say a kind word to those who accept our money in the toll booth. Opportunities abound for kindness.
The Spiritual Practice of Kindness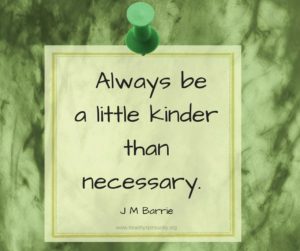 For kindness to become a spiritual practice we must be intentional to notice and to see and treat others that we interact with. Kindness is fragile and subject to omission when we become self-absorbed, our ego takes over, or stress/fatigue rule our behavior.
And consider who you are kind to. Kind to strangers. Kind to our own family members. Kind to yourself. Being purposeful in acting kind to all around us takes awareness, effort, and setting aside our egos and habits.
Kindness makes for a great topic in a faith-based blog like this but in reality, it is a difficult practice to sustain. We get tired, irritated, and distracted and have to realign our hearts frequently to the more tender mode.
One idea to cultivate this practice is to challenge yourself to make kindness a daily practice. Set this as your intention in the morning and evaluate your heart at the end of the day.
In the titled The Diamond Cutter,  Geshe Michael Roach recounts a story about early Tibetan Buddhists called Kadampas who carried around bags of black and white pebbles. Each time they said or thought something positive, they placed a white pebble in their left pocket; each time their thoughts or words were negative, they placed a black pebble in their right pocket. At the end of the day, they would count up each group of pebbles and inevitably, the black pebbles outnumbered the white. The pebbles presented a tangible measurement of the quality of thoughts and deeds and helped them develop awareness of their thoughts and actions.
Each day began new as all the pebbles returned to the bag. Isn't it amazing we have the blessing of starting anew with each morning?
I wrote another post about kindness here you may want to read.
Thoughts about Kindness
Kindness is a language which the deaf can hear and the blind can see.
Mark Twain
No act of kindness, no matter how small, is ever wasted.
Aesop
A little thought and a little kindness are often worth more than a great deal of money.
John Ruskin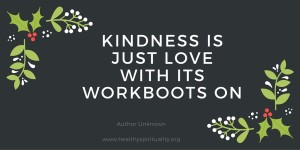 A great man shows his greatness by the way he treats little men.
Thomas Carlyle
When I was young, I used to admire intelligent people; as I grow older, I admire kind people.
Abraham Joshua Heschel
Be kind to unkind people – they need it the most.
Unknown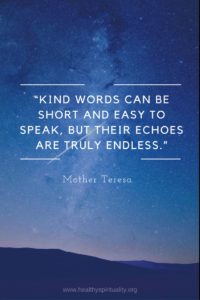 Kind words can be short and easy to speak but their echoes are truly endless.
Mother Teresa
If there is any kindness I can show, or any good thing I can do to any fellow being, let me do it now, and not deter or neglect it, as I shall not pass this way again. 
William Penn
Always be a little kinder than necessary.
James M. Barrie
A single act of kindness throws out roots in all directions, and the roots spring up and make new trees.
Amelia Earhart
Kindness isn't always an act, a duty, or a behavior – it is a mindset that positively changes the world beginning with the person right in front of you.
Jean Wise
How do you practice kindness? How has kindness changed your life?