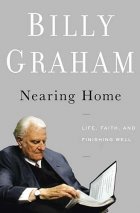 What is the best way to grow old gracefully? 
       One of my favorite Bible verses is: "They shall still bear fruit in old age; They shall be fresh and flourishing." Psalm 92:14.
         We have a wonderful example of bearing fruit at an older age in evangelist Billie Graham.
       Graham has just released his latest and probably his last book, Nearing Home, Life, Faith and Finishing Well. 
    This book is full of practical, honest, and inspirational advice for both young and old on the art of living fully until the end of life. He gives wonderful examples not just from his life, but also from others such as his wife Ruth and Biblical characters.
     As I read this book it was like an experience of the  sitting at the feet of a wise elder sharing his final words of wisdom with a group. He shares ideas to be best prepared mentally, physically, emotionally, and spiritually for whatever old age brings our way.
    Graham's words challenge the readers to consider what legacy we are leaving to others following us. How will we be remembered? How will we live out the final years of our life? Graham writes that our greatest legacy we pass onto the our children and grandchildren is not our money, but our character and our faith. Certainly great topics to discuss in a small group or with a spiritual director and to journal about in prayer filled time with the Lord.
     Perhaps my favorite story from the book is from
Ruth Graham
. She was driving home one day through a construction zone. After passing many miles of cautionary road signs, she came to the last one that said, "End of Construction. Thank you for your patience." When she arrived home, she told her family, chuckling, "When I die, I want that engraved on my stone."
     The foundation of the book, in typical Graham fashion, is always pointing to God. He writes, "Let the promises of God's Word, the bible, uphold you every day, Turn constantly to Him in prayer, confident not only that he hears you but that eve now Jesus is interceding for you. Focus your thoughts on Christ."
     Facing death and growing old are topics most of us chose to ignore and deny. Though this book doesn't offer lots of new ideas, it does give us a glimpse into Graham's life and the lessons he has learned living into his 90's.  Lessons we all need to learn too.
      Disclosure of Material Connection: I received this book free from the publisher through the BookSneeze®.com book review bloggers program. I was not required to write a positive review. The opinions I have expressed are my own.