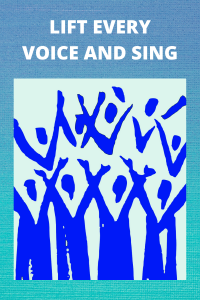 Lift Every Voice and Sing is one of the hymns sung in my church.
Just a side note: my local parish just recently resumed in-person worship gatherings – yes, masks and social distancing – but no singing due to the aerosol projection making it unsafe – and wow, do I miss the singing but for the sake of others, we don't. 
I knew this hymn but never knew its story until it became part of the news stories last month.
Here is the song in case you don't know it:
Lift Every Voice and Sing Story
Lift Every Voice and Sing was written by James Weldon Johnson and what a life of accomplishment, creativity, service, and leadership he gave our country. He surely used the gifts that God gave him in many ways.
Johnson was a civil rights activist, writer, composer, politician, educator and lawyer. Born in Florida in 1871and he was the first African American to pass the bar exam in Florida. After graduating from Atlanta University, Johnson worked as a principal in a grammar school and founded a newspaper.
 In 1900, James and his brother, John, wrote this song "Lift Every Voice and Sing." Johnson was asked to speak at a school in Jacksonville, Fla., his hometown, for an observance celebrating the birth of Abraham Lincoln. Rather than make a speech, he decided to write a poem. As the time drew near, his plans changed from a poem to a song. James turned to his brother J. Rosamund Johnson to compose music for his text.
His writing and music creativity continue in New York City where he studied literature at Columbia. The two brothers wrote nearly 200 songs for Broadway productions and compiled and edited The Book of Negro Spirituals (1925). Johnson published hundreds of stories and poems during his lifetime including a novel.
In 1906, President Theodore Roosevelt appointed Johnson, who was fluent in Spanish and French, to diplomatic positions in Venezuela and Nicaragua.
Upon his return in 1914, he became involved with the NAACP, and by 1920, was serving as chief executive of the organization. During his tenure as executive secretary of the NAACP, Johnson also led a national campaign against lynching that garnered significant congressional support in the form of the Dyer Anti-Lynching Bill of 1921, a bill that would have made lynching a national crime, but it failed to become law because of insufficient votes in the Senate.
Also during this period, he became known as one of the leading figures in the creation and development of the African American artistic community known as the Harlem Renaissance.
After retiring from the NAACP in 1930, Johnson devoted the rest of his life to writing. In 1934, he became the first African American professor at New York University.
Johnson died in a car accident in Wiscasset, Maine, on June 26, 1938, at the age of 67. More than 2,000 people attended his funeral in Harlem. What an amazing life!
And his song lives on in this hymn. I found this story shared by Dr. James Abbington, Associate Professor of Music and Worship at Emory University's Candler School of Theology which confirms this music's impact on others.
 "Several years ago, I was invited to organize and conduct a 1,000-voice choir for the annual Detroit Branch NAACP Freedom Fund Dinner at Cobo Hall. It was during the time of the Persian Gulf War and tensions were very high between the Jewish and Arab communities in the city.

"The 1,000-voice choir, accompanied by the Detroit Symphony Orchestra, was made up of Anglo-Americans, Canadians, Native Americans, Koreans, Italians, Jews, Arabs, African-Americans and others, and 'Lift Every Voice and Sing' was one of the selections for that occasion. After the first rehearsal Jewish, Korean, and Native American members of the chorus approached me and said, 'This song isn't just for African-Americans and people from Africa, it belongs to all of us who are 'true to our God and true to our Native land.'"
The Words Become Prayer
Slowly and prayerfully read the words from the last verse of Lift Every Voice and Sing:
God of our weary years,
God of our silent tears,
Thou who has brought us thus far on the way;
Thou who has by Thy might
Led us into the light,
Keep us forever in the path, we pray.
Lest our feet stray from the places, our God, where we met Thee,
Lest, our hearts drunk with the wine of the world, we forget Thee;
Shadowed beneath Thy hand,
May we forever stand,
True to our God,
True to our native land.
This prayer gives me hope, assurance, and helps me praise our Lord and Savior. My heart overflows with reverence for God, for others no matter who they are or the color of their skin and for our country even with its brokenness and upheaval.
Good words to hold close to our heart in these turbulent times.
What does this song stir within you?