Patty Wysong has created a fun meme where once a week bloggers posted on the letter of the week. Check out the details here. It is called A2Z: Take 2. A2Z as she challenges bloggers to write a post each week going through the alphabet.  Take 2 since this is the second time she has used this meme. Anyone can join in and you don't have to always participate.
This week's letter is L:
What's on Your Bucket List?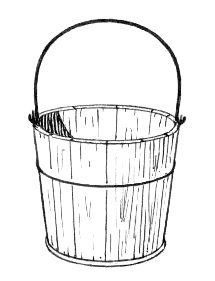 One of the best Christian radio stations is WBCL. They have a wonderful program at 10 am each morning called Midmorning where they discuss a whole variety of topics. Last week they discuss bucket lists.
What is on your bucket list?
A bucket list, in case you don't know, is a compilation of things you want to do or places to go before you kick the bucket. You take the time to ask yourself, "If I knew I were going to die next week, I would most regret not doing _______." 
I think the benefit of a bucket list is the power of writing out dreams. Once you see them listed before you, often the list inspires us to make a plan to achieve some of those wishes.
Last week my husband Bill crossed something off his list. He has always wanted to see spring training in Arizona. We attended three Cincinnati Red games and took several side trips to see that scenic state. Of course we journeyed to the Grand Canyon – more on that trip on a later post.
Trips are always on my bucket list. One place I want to visit is Scotland and I am excited to share with you we are going there October. And yes we will get to spend two days on the Iona – a very special spiritual place.
Both Bill and I want to see the Northern Lights and we hear while we are in Scotland we are far enough north we might see them. Wouldn't that be something to cross two items off our list on one trip?
Writing is high on my bucket list. I long to publish a book that draws people closer to God and a children's book that becomes a classic. 
Is this all self centered?  I have mixed feelings about even writing a post about this topic because it may feed the ego instead of the soul, but I do know God gives us dreams. I believe He wants us to enjoy the world He created. And the process of identifying what we want in life can lead us closer to God in many ways.
So what is on my spiritual bucket list? 
I would love to attend and learn biblical story telling. Graduates of this program bring the word of God alive. At my son's ordination, one of his friends told the story of Samuel being called by God – word by word from 1 Samuel 3. It was amazing and set the word of God on fire.
Another dream is to go on a 30 day Ignatius Retreat. I love Ignatius spirituality and know doing the full 30-day retreat would be a nourishing experience.
Going on a short-term mission trip is another idea.
Erma Bombeck said, in one of most favorite quotes (and a good way to end this post)
When I stand before God at the end of my life, I would hope that I would not have a single bit of talent left, and could say, 'I used everything you gave me'.
So I am curious: What is on YOUR spiritual bucket list?