The Door is Open – WELCOME!
This page highlights various Literary Landmarks where writers lived and drew inspiration and Spiritual Spaces where people experience God – locations that feed your curiosity.nourish your soul and stretch your mind.
Literary Landmarks:
The Massa Museum – Findlay Ohio. – The Mazza Museum showcases original work of art from children's picture books. It's a delight to stroll through its whimsical world and I felt like I stepped back into story land. There are more than 300 works of art exhibited in five galleries. Beside each pie is a plaque with the name of the illustrator, title of book and date. They hold multiple conferences each year and have a special area to display young students' work.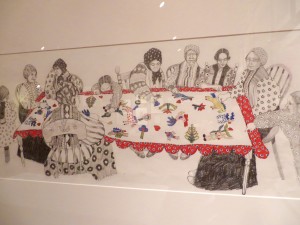 Spiritual Spaces
 The Island of Iona – Iona is a tiny windswept rugged island off Scotland's western coast, Located in the Inner Hebrides, Iona is only 1.5 miles wide by 3 miles long, with a population of fewer than 150 permanent residents.
St Columba arrived here in the early 500 AD and brought Christianity to Scotland. He founded a monastery there that remained for more than 1000 years and at one time had about 600 monks. To this day, Iona is a place of retreat that draws people closer to God.
Check out the blog post I wrote about Iona here and my experience of walking on a labyrinth made of seaweed on its beach.