What was wrong with me? Here I walked on the remote island of Iona where for thousands of years, Christians experienced God and I felt nothing.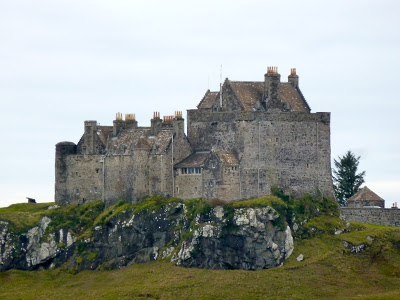 I wrote in my journal that last full day on Iona:  "Thank you Lord for this walk on 'ancient paths.' The beautiful hikes have physically blessed me and I felt joy with the wonderful discussions filled with laughter among friends.
But spiritually something is missing. What does my soul need from this sacred time here on Iona?
I know I felt a 'quickening' of my spirit, the touch of your hand, the closeness of your breath when I saw the Scottish landscape, the villages and people.  I experienced your presence in the Edinburgh Castle and my surprise discovery of the Writers Museum. But Iona remains bare. I don't want to miss it, ignore You nor do I want to demand its arrival either.  Help me see the gift you have for me here on Iona."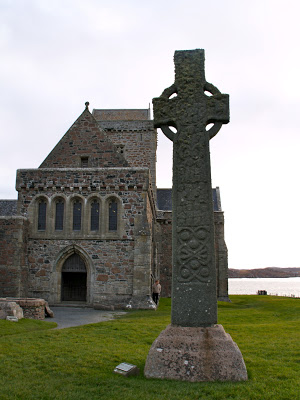 On our pilgrimage to Scotland and England we spent two full days on the Island of Iona. Iona is the heart of Celtic Spirituality and site of pilgrimage for many ages.     
Iona is also what is called a "Thin Place."
A thin place is a place where the boundary between heaven and earth is especially thin. It's a place where we can sense the divine more readily. An old Celtic expression says that heaven and earth are only three feet apart, but in thin places that distance is even shorter.
"A thin place is where two worlds meet, where heaven kisses earth and eternal times brushes against ordinary time." Liz Budd Ellmann
Ok God I am here. Where are you? I've come all this distance and not hear You?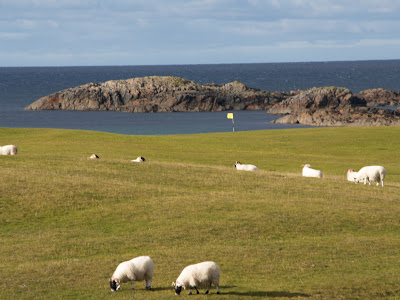 We hiked south that morning, then west to the Atlantic Ocean. I watched the sheep graze and I gazed at the breaking waves from the same hill that St. Columba sat and meditated. We walked back into town to eat fish and chips at the pub we adopted as our own, nestled on Martyr's Bay.
I saw it as we near the pub. How did I miss it before? 
There on the beach, north of the pub, someone created a seaweed labyrinth.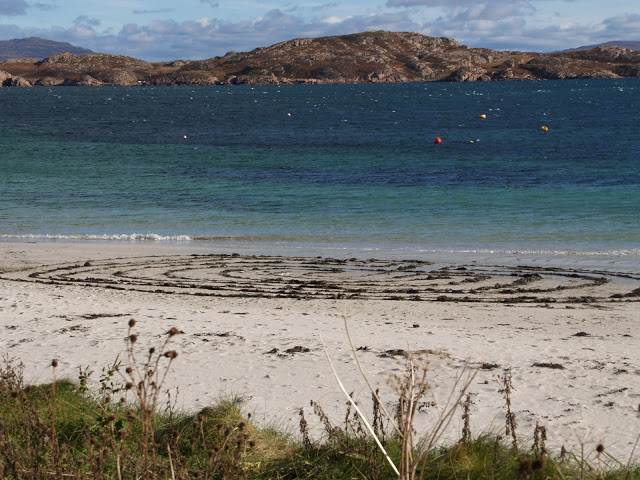 The quickening of my heart knew Your voice. 
My spiritual invitation arrived.
No one joined me on the beach after lunch. I slowly and silently savored every second of my journey into, within, and outward from its winding path. The only sounds were the waves lapping the shore. My only sights were the white-capped waves in the bay dancing to the cold, northerly winds.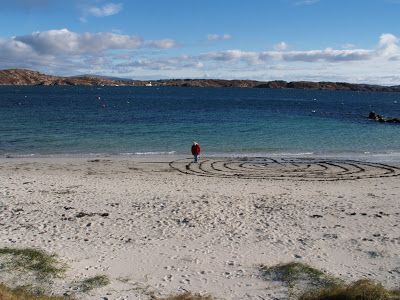 Have you ever walked a labyrinth? A labyrinth has only one path so there are no tricks to it and no dead ends. It is not a maze. The path winds throughout and becomes a mirror for where we are in our lives. It touches our sorrows and releases our joys.
A seaweed labyrinth on Iona opened the door for me to experience a thin place. I walked with God that day. I knew He listened to my wondering about this empty place my soul has lived since June. I understood it was time to let go of my way of seeing things. I sensed I would linger in this space longer, learning a new language and way to hear Him.
God whispered, "This is the language of silence, of the wind, of the surf, of the dolphins playing in the bay. I speak on a different frequency that what you are used to. Learn. Listen."
I felt peace leaving this thin place. I don't have all any of the answers but God will guide me.
Iona is a thin place where we connected with ancient hallowed paths and sacred wisdom and left transformed and renewed for the journey ahead. Yet God speaks all the time and in all places when we pay attention and are open to His voice.
Thin places occur wherever we are. Pilgrimages to sacred places certainly hold invitations to experiencing God but no matter where we journey, God opens the veil between heaven and earth, enters our hearts and tenderly caress our souls.
Where have you experienced thin places in your life?