"You are a stumbling block to me: for you are setting your mind not on divine things but on human things."
Matthew 16: 23b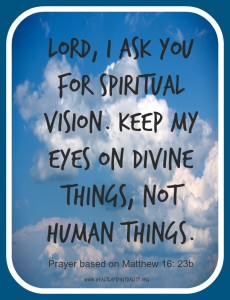 Lord, I don't want to be a stumbling block to you.
But my human eyes only see human things.
My spiritual eyes squint to the blurry images before me.
I can barely make out my path.
My hope seems out of reach.
My final destination beyond veiled passages.
My sight fails me; faith is the only way to clear my vision.
Help me see others through your eyes of love.
Free my view from the heavy shackles of earth and lift my eyes towards heaven.
I don't want to stand in your way but only in your shadow;
not as an obstacle,
but as an opening for your love to shine through.
Touch my eyes, my heart, my soul, Lord and help me see.