Simon Peter answered him, "Lord, to whom shall we go?
You have the words of eternal life. 
We have come to believe and to know that you are the Holy One of God."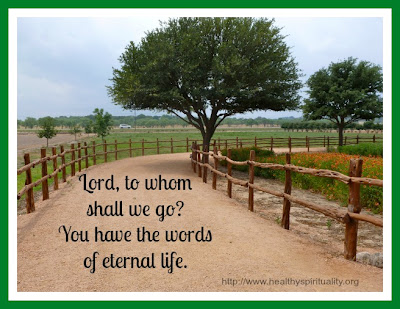 "Lord, to whom shall we go?"
We sing these words in our liturgy each Sunday, Lord. Often forgetting who said them first and to Whom.
How could I go anyplace else, Lord?
Once I have danced in Your light and hid in Your protective shadow.
Once I have tasted Your sweet goodness and heard Your word.
Once I have been swept away by Your powerful love.
Once I have caught a glimpse of Your majesty.
Once I tore off all my masks and stood vulnerable, open to You.
Once I have been cleansed with Your forgiveness.
Peter's answer is so simple. Honest. True
You are the Holy One. Once my life has been transformed by You, there is no other person, place or thing to turn to.
You are everywhere and everything.
You are the Way. The Only Way.
"Lord, to whom shall we go?"