March is Women's History Month or should I say Women's Her-story Month.

 

The Tuesday and Friday posts this month will feature women who lead lives that could serve as models for us in our Christian walk. It was difficult to narrow the list for the few dates in March but I did try to find some women you may not know very well and women writers.

 

Enjoy!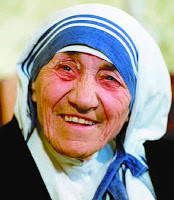 Mother Teresa
– my final post for
Women's History Month
. This well-known inspirational woman lived a life of sacrifice, prayer, service and love.
A woman, many of us watched on television and read about while she was alive – makes growing a heart of God and following him sound possible when we have a "real" model, doesn't it?
Born in Albania, she felt strongly the call of God at the age of twelve. She knew she had to be a missionary to spread the love of Christ. At the age of eighteen she left her parental home in Skopje and joined the Sisters of Loreto, an Irish community of nuns with missions in India.
Hearing God once again in 1946,
Mother Teresa

left her teaching post and devoted herself to working with poorest and neediest in India. She had multiple obstacles to overcome in order to do this – something we forget about when we see the end result of her work. More recently we have learned from her letters how she struggled in NOT experiencing God later in life – yet she continued to serve Him and love Him.
Mother Teresa

's goal for the Missionaries of Charity was to "give dignity and love to the old and terminally ill, regarding every individual as uniquely precious in God's sight."
What a way to live and a goal for each of us.
Let her own words of wisdom speak to our hearts today:
God doesn't require us to succeed; he only requires that you try.
I am a little pencil in the hand of a writing God who is sending a love letter to the world.
I have found the paradox that if you love until it hurts, there can be no more hurt, only more love.
 In this life we cannot do great things. We can only do small things with great love.
Many people mistake our work for our vocation. Our vocation is the love of Jesus.
We ourselves feel that what we are doing is just a drop in the ocean. But the ocean would be less because of that missing drop.
"Dear Jesus, help us to spread Your fragrance everywhere we go. 
Flood our souls with Your spirit and life. 
Penetrate and possess our whole being, so utterly, 
That our lives may only be a radiance of Yours. 
Shine through us, and be so in us, 
That every soul we come in contact with may feel Your presence in our soul. 
Let them look up and see no longer us, but only Jesus! 
Stay with us, and then we shall begin to shine as You shine; 
So to shine as to be a light to others. 
The light O Jesus will be all from You, none of it will be ours; 
It will be You, shining on others through us. 
Let us thus praise You without preaching, not by words but by our example, 
By the catching force, the sympathetic influence of what we do, 
The evident fullness of the love our hearts bear to You.  Amen."