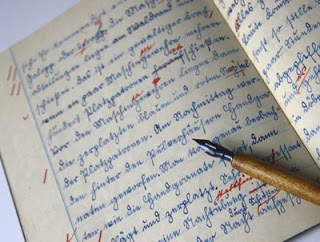 My favorite year-end ritual begins today. The next two days I will curl up in my overstuffed chair and reread my 2010 journal. I call it "Harvesting my Journal" and I have enjoyed this reflective journey every year for at least the past 15 years.
With a highlighter and my favorite pen in hand, what do I look for?
·

     
Cherished moments.
·

     
Unexpected joys and obstacles
·

     
Reoccurring thoughts or stubborn won't go away God nudges
·

     
Bible verses that guided me or still sing to me even if I don't know why
·

     
Times I felt God's presence and times I walk in lonely darkness
·

     
Lessons I learned and lessons that will take a life time to fully comprehend
·

     
Answered prayers and dreams that still bubbled with life and passion
I highlight and summarize on the December 31st entry.
On January 1st, you will find me buried in my journal once again, praying, and listening to God about the upcoming year. I tried my best to record what I feel is His hopes, dreams, goals for me the next 365 days.
I pause and lift up my journal and my life journey once again into His hands.
Then I start once again:
January 2….