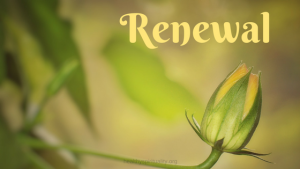 Today is National Renewal Day.  Ever hear of this day before?  I hadn't.
National Renewal Day was created to honor new beginnings and fits well in the spring time growth occurring in the northern hemisphere. Its purpose is to reinvigorate us after a long winter and refresh our spirits.
The dictionary defines renewal as the state of being made new, fresh, or strong again: the state of being renewed.  I like the phrase "strong again."  Yes, I want to be strong, not cold and dying.
We must always change, renew, rejuvenate ourselves; otherwise we harden.
Johann Wolfgang von Goethe
Ways to Celebrate National Renewal Day
You could use this day in a tangible way.
Plan your spring cleaning.
Commit to repaint a room.
Refinish a dresser.
Open the window to the fresh air (not a good idea here today in northwest Ohio. I think I will wait for a warmer, drier day)
Renewal can be physically, mentally, socially, and spiritually, too.
How can you recharge yourself physically?  Try a new exercise. Go for a walk. Attempt a healthier recipe. Drink more water. Declutter a room.
What about renewing your mind? Read a new book about a topic you know nothing about. Watch PBS. Learn 10 new words. Study the scriptures. Memorize a verse. Listen to your self talk and let go of the stories you tell yourself that are not true.
Social renewal can take the form of calling that friend you haven't talked with for a long time. Writing that letter. Visiting a shut-in. Plan a party. Creating your home as a welcoming space.
And our spirits also need replenishing. Study and try a new prayer practice. Set up a home altar. Schedule a retreat. Read a spiritual book. Dance to music. Sing as loud as you can. Stop and smile at God.
"God became man to turn creatures into sons: not simply to produce better men of the old kind but to produce a new kind of man."
C.S. Lewis
Other Ways to Ponder Renewal
Renewal can also refer to energy as in renewable forms of energy. A good day for us to assess how we use energy and challenge ourselves to be better caretakers of the Lord's earth.
Maybe today would be a good day to check around the house what you need to renew.  Passports? Library books?  Driver's license?
In school my grandkids celebrated the marriage of the letters "Q" and "U," a clever way to teach that these two letters always come together. My oldest granddaughter wisely observed that Q and U get married every year at our school. She is in first grade so has observed this "for years."  Her mother commented that her grandparents (us!) had been married several times. "What?" all three yelled in astonishment. They demanded to talk to me right away after hearing about this curious situation.
What my daughter told them was, in fact, quite true.
Bill and I have been married or more exact we "renewed" our marriage vows four times across the years. Another type of renewal.
Spiritual Renewal
Let's renew ourselves and the world with kindness, goodness, hope, and love. I am tired of the infighting, tensions, and negativity. Maybe one person can't change the whole shebang, but my attitude may influence the next person I meet. I chose to renew, not ruin.
[Tweet "I chose to renew, not ruin. Jean Wise"]
Think about this: a rippling renewal revolution.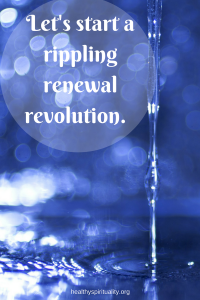 My prayer is to surrender my desire to be in control and let God's spirit renew me in ways beyond my imagination. May I remain pliable in the potter's hands.  What an adventure this will be! An incredible rebirth.
By the way, yes, I know today on May 4 is also designated a National Star Wars Day.  "May the Fourth Be With You" or "May the Force Be With You."
So I will add:"May the Fourth Fuel your Renewal."
How can you practice renewal today?