On Thursdays in December, I will be featuring a hymn from the season and its story. I love hearing the roots of these songs as music adds so much to the holidays and to our worship. Those who sing, pray twice – St Augustine.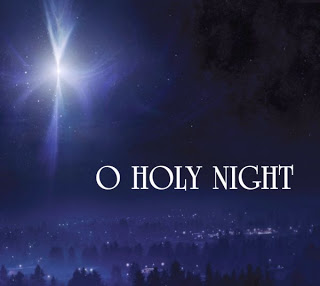 Did you know this hymn was at one time banned and controversial?
The Lyrist
Placide Cappeau (1808-1877) wrote the lyrics. Known more for his love of wine and poetry than his love for Christ, the local parish priest asked him to write a poem for the Christmas mass. Not sure where to start, Cappeau imagined what it would have been like to witness the story found in Luke.
The Composer
Cappeau asked his friend Adolphe Charles Adams to put the words to music. The words were difficult to place in a tune, even for this well-known composer of over 80 operas.
And to make matters worse, Adams was Jewish. But soon the words were joined to music and the priest had his new hymn for the Christmas mass in 1847.
The Controversy
The hymn grew in popularity in France until the background of the composer and lyrist was discovered. Cappeau left the church and became an active part of the socialist movement. He was described as a social radical, a freethinker, a socialist, and a non-Christian. Church leaders also discovered that Adams was a Jew, and the Church suddenly and uniformly denounced the song, which had quickly grown to be one of the most beloved Christmas songs in France. The hymn was declared as unfit for the church!
New Life
The hymn drew new life in England and the United States. John Sullivan Dwight (1813-1893) authored the English translation of "O Holy Night".
Dwight felt that this wonderful Christmas song, besides being beautiful, supported his strong antislavery beliefs and his version quickly spread especially in the northern churches.
The story behind this hymn becomes even more incredible when we learn that on Christmas Eve 1906, Reginald Fessenden, a 33-year-old professor and former chief chemist for Thomas Edison, did something long thought impossible. Using a new type of generator, Fessenden spoke into a microphone and, for the first time in history, a man's voice was broadcast over the airwaves:
"And it came to pass in those days, that there went out a decree from Caesar Augustus, that all the world should be taxed," he began in a clear, strong voice. After finishing his recitation of the birth of Christ, Fessenden picked up his violin and played "O Holy Night," the first song ever sent through the air via radio waves.
His voice was heard on ships and wireless operators throughout the country. His Christmas program was broadcast as far south as Norfolk, Virginia and when the program was repeated on New Year's Eve, it was heard as far away as the West Indies.
Isn't that story amazing? God's fingerprints are all over this song from its simple request from a small town parish priest to a socialist, wine loving poet. Next comes the soaring music written by a Jewish opera composer and added fuel by an abolitionist against slavery in America.
Spend a few quiet moments this week, reading and pondering these words. The second and third verse lingered with me deeply and filled this holiday season with renewed love and peace:
O Holy night, the stars are brightly shining
It is the night of the dear Savior's birth
Long lay the world in sin and error pining
Till He appeared and the soul felt His worth
A thrill of hope, the weary world rejoices 

For yonder beams a new and glorious morn 

Fall on your knees! Oh, hear the angel voices! 

O night divine! O night when Christ was born!
O night divine! O night, O night divine!
Led by the light of faith serenely beaming
With glowing hearts by His cradle we stand 

So led by light of a star sweetly gleaming 

Here came the wise men from the Orient land
The King of Kings lay in lowly manger 

In all our trials born to be our friend 

He knows our need 

To our weakness no stranger 

Behold your King! before the lowly bend! 

Behold your King! before Him bend!
Truly he taught us to love one another 

His law is love and His gospel is peace 

Chains shall He break, for the slave is our brother 

And in His name all oppression shall cease
Sweet hymns of joy in grateful chorus rise we 

Let all within us praise His holy name 
Christ is the Lord 

Then ever, ever praise we His pow'r and glory ever more proclaim 

His pow'r and glory ever more proclaim
What does this hymn say to you?