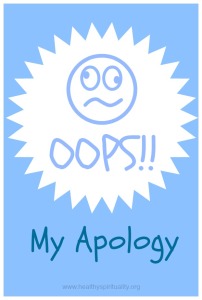 For all of you who normally get this blog by email, I owe you an apology.
Sometime end of last week, my blog and the software that mails out new posts to you decided not to communicate. I didn't realize this until Tuesday and then had difficulty reestablishing the links.
Finally late Wednesday, the two parties decided to talk again and to be honest, I am not sure if the connection miraculously healed itself (I was praying!) or if something I did finally worked.
BUT OOPS!  Once all was well again in cyberworld, the internet imp decided to mail all of you not one, not two, but three posts.  I am so sorry to clog up your inbox.  Hopefully we are now back to the normal schedule of posts.
"Don't you just love technology?" she says gritting her teeth and with a fake smile.
Yes frustrating, but not the end of the world and lots worse could and has happened to me, so I am grateful for the comfort of routine and no annoying glitches. And thankful most of the time for technology to be able to connect with you all and share ideas and conversations together. 
Wishing you all a blessed weekend. More later….