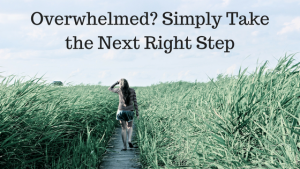 Vacation was delightful. The trip home uneventful. I didn't even gain weight this time, so rejoiced at my Weight Watcher meeting.
Then the "overwhelms" engulfed my world.
Sickness. Deadlines. Immediate needs/expectations from others. Longer than anticipated meetings. A crowded, unrealistic to do list.
I felt overwhelmed, beaten, and swamped last week.
When stress floods my soul, I procrastinate – putting me even further behind. Anyone else react that way?
My frustration mounted until I remembered the wisdom of only focusing on the next simple step.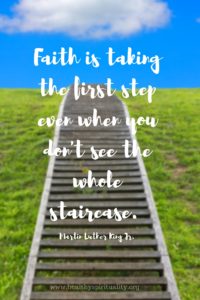 Simply Take the Next Right Step
Feeling overwhelmed arises from the sense of not being in control. I can't control everything, especially from others and situations filled with viruses and bacteria. But I can control my attitude. I can decide what is the next right step and choose to focus only on getting that step done.
What reminded me of this good advice was the following video about dominoes. Please take the time to watch and if you are reading this by email and it doesn't appear, come over the blog to see it:
The smallest step, the tiniest domino, started a chain reaction that brought down the largest pieces. The smallest next right step will eventually crush all the demands, to do's, and endeavors.
Over time little actions produce big accomplishments.
[bctt tweet="Over time little actions produce big accomplishments.  Jean Wise" username="Jeanwise"]
I am doing better this week.  I wrote out what needed to be done by when (a good old fashion brain dump onto paper) and am tackling only one assignment at a time.  Author coach and good friend Shelley Hitz reminded me to FOCUS – Follow One Course Until Successful.

The image of those dominoes also reminded me how one small stone from the slingshot of a young boy named David conquered the giant Goliath. God is with us when we are overwhelmed and promises to stay by our side step by small step until his mission for us is accomplished. We too can be giant slayers – victors in the battle of the overwhelms.
One step at a time.
What do you do when feeling overwhelmed?