When it was evening on that day, the first day of the week, and the doors of the house where the disciples had met were locked for fear of the Jews, Jesus came and stood among them and said, "Peace be with you."
Jesus said to them again, "Peace be with you. As the Father has sent me, so I send you." When he had said this, he breathed on them and said to them, "Receive the Holy Spirit.
A week later his disciples were again in the house, and Thomas was with them. Although the doors were shut, Jesus came and stood among them and said, "Peace be with you."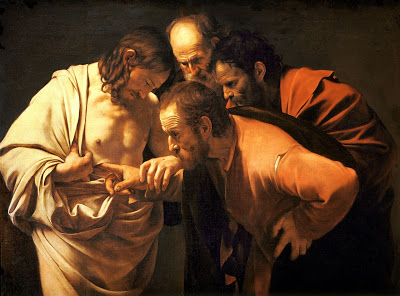 What a powerful greeting, Lord.
That was the first word I heard You said when You appear before us, Your disciples. We have been hiding behind locked doors so afraid of the others, the rumors, the unknown.
Fear vanished. Rejoice! My heart skips with delight. You are alive!
We celebrate Your presence, once again You offer Your sacred gift,
What more could we ever ask for?
But You have one more surprise.
"Receive the Holy Spirit."
I close my eyes and feel your warm breath tenderly upon my face.
My powerless melts away. My body fills with strength and resolve. Love destroys my fear.
We hear Your one word gift at least once more when You return for Thomas.
You aren't angry. You understand his doubt.  You embrace him and softly say,
Peace breaks down the locked doors of fearful hearts.
Peace defeats doubts and empowers forgiveness of others, of ourselves.
Your holy presence in one word.
One word that changed our lives forever.