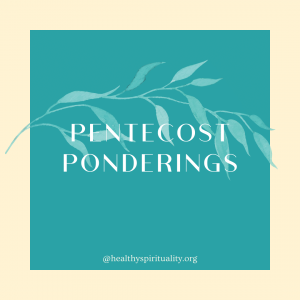 Pentecost is the coming Sunday, May 23 commemorating the arrival of the Holy Spirit and is often called the birthday of the church.  The word Pentecost means "fiftieth day," as it is celebrated fifty days after Easter.
I have been listening to what others have to say about the Trinity– God, Jesus, and Spirit- and how they address them. The words they chose give us a glimpse into their faith.
Many people know God and they describe their relationship with familiar names: God the Creator, Lord, Yahweh, the Holy One.
One of my favorites is Abba. I love the intimacy of that word.
God the Father took me a long time to embrace since my own dad died when I was a teenager and I had to work through abandonment issues. I know God the Father is difficult for many others too, but God can heal those wounds.
Next, I hear beautiful names for Jesus: Alpha and Omega, Savior, Morning Light, Emmanuel, Christ, Master, Son of God, the Way, Good Shepherd, and so many more.
But since this is Pentecost, I have been eavesdropping what others say about the Holy Spirit. What do they call her?
I hear Spirit. Then silence.
There doesn't seem to be the same intimacy, familiarity, and depth to names for this member of the Trinity. A nearness is missing for folks.
Here are words I use:
Advocate
Comforter
Helper
Sophia
Sophia is my favorite. Sophia is biblical for Wisdom.
"I keep asking that the God of our Lord Jesus Christ, the glorious Father, may give you the Spirit of wisdom and revelation, so that you may know him better." Ephesian 1:17
"The Spirit of the Lord will rest on him—the Spirit of wisdom and of understanding." Isaiah 11: 2
Sophia is personal and implies a deep bonding connection. I feel my defenses lower and my ego lessened in her presence using this name.
Spirit is breath, pneuma, and in Greek this is a feminine word.  Now I don't believe God is only male and the Spirit only female. God is much more that our measly categories and the boxes we try (and fail) to squeeze the Trinity into, but I know it helps me to use a female name and brings me closer to God.  I am pretty sure God understands my limited human mind and heart.
Using a cherished name for the Holy Spirit has brought a new perspective for me for Pentecost. I love the story of the tongues of fire, cacophony of languages, and swirling wind of change and power. I get excited!
Sophia is alive.
Sophia is active.
Sophia is our advocate.
Sophia is our anchor.
Sophia is our awesome and almighty God.
Aren't we so blessed by God who offers so many ways to come into his/her presence and be known, seen, and loved?
Pentecost excites me as much as Christmas and Easter. And I am so thankful for the Holy Spirit's work, patience, and companionship in my life.
What are some of your favorite names for God, Jesus, and the Spirit?  
PS. I updated the Pentecost resource page with newer webpage references.  Enjoy!