He told many stories in the form of parables, such as this one:
"Listen! A farmer went out to plant some seeds. 
As he scattered them across his field, some seeds fell on a footpath, and the birds came and ate them.  
Other seeds fell on shallow soil with underlying rock. The seeds sprouted quickly because the soil was shallow.  
But the plants soon wilted under the hot sun, and since they didn't have deep roots, they died.  Other seeds fell among thorns that grew up and choked out the tender plants.
Still other seeds fell on fertile soil, and they produced a crop that was thirty, sixty, and even a hundred times as much as had been planted!
Matthew 13: 3-8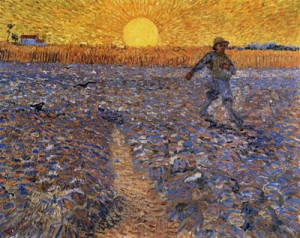 A farmer went out to plant some seeds.
Lord, I do so much want to be good soil.
Bury your roots deep within to secure me on solid ground and produce good fruit for you.
So often, Lord when I read this parable of yours, I think of the soil.
But today my eyes are on the Farmer.
You persistently and lavishly scatter your message of love on all types of dirt.
You don't just focus your effort on where you know growth will occur for certain and seeds will grow.
You take your kingdom to all no matter their condition or prognosis.
You cover us all with your love and heap goodness on everyone.
What a lesson for me.
To spread your good news to all – even when rejected by hard hearts, let down by those who don't keep promises or ridiculed by others blinded by the world's temptations. 
My job isn't to concentrate on my success or to judge, but to share your love with others.
Today I bow to the Farmer – who shares his ample love so generously with all- no matter who they are.