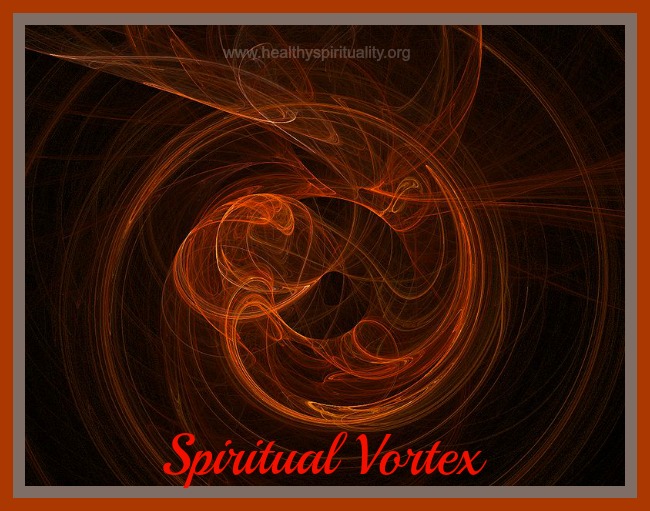 The harsh winter weather in North American introduced a new phrase into our vocabulary – polar vortex. The meteorologists loved to say those words over and over again to describe the dramatic rush of snow, wind and cold blanketing this part of the world. January can be cold here, but not this frigid.
A polar vortex is super cold air that whirls around the Arctic. Occasionally this mass changes course and comes south to regions it normally doesn't visit. I found the words to describe this weather system interesting: lopsided, distorted, intense, turbulent, and even dangerous.
A vortex is a whirling spiral of motion around a center like the water spinning down the drain of the bathtub. Once formed, vortices don't keep neat circles, but can move, stretch, twist, and interact in complex ways.
A vortex seems pretty chaotic, unpredictable and ever changing to me.
Mmmm, that sort of sounds like life, doesn't it?
The metaphor of a spiral is often used to describe our spiritual journeys. I like this image: ever evolving, sometimes revisiting old issues, but usually at a different level or seen from a new perspective. Our walk here on earth can be pictured as a gentle upward curve of progress and growth in a beautiful pattern. Even Dorothy in the Wizard of Oz, began her adventure on the curving of the yellow brick road after a trip through a spinning vortex of the tornado.
I am beginning to let go of the thought of my spiritual journey as a spiral and now think it is more like a vortex. Growing spiritually can be messy, unpredictable and confusing. I am a hard wired to plan and have everything neat and clean and under control, my control. God has other ideas – He thinks He is in control.
Though I prefer to have this nice gentle climbing slope of growth, my relationship with God is more like a wild adventure on a tall and jarring roller coaster. Guess that keeps me awake.
I am learning the spiritual growth is lopsided, distorted, intense, turbulent, and even dangerous.
This journey holds ups and downs and detours amidst times where we can't see where we are going. The powerful forces of good and the determined attempts of evil can be extreme and challenging. Surrendering our wills and obeying God upsets our safe little plans and maybe how others see us.  It is not easy and downright risky to forgive someone who hurts us, to go that extra mile without being appreciated, to give our all when we don't want to and trust this God of all weather.
No wonder we spin and bump and scramble to stay on the path in front of us. I find hope, though that a vortex, though crazy and wobbling, ever circles a strong consistent center. God is with us in this storm to calm the raging winds that often knocks us off course.
I read words of great wisdom the other day:
"A grand adventure is about to begin."
Winnie the Pooh
I guess a grand adventure, this spiritual journey we are all on, wouldn't be as splendid or as bold or as transformational as a gentle gradual spiral. To shake off the shackles of my sin and lift my attention and desire from self and back to the Creator, God, in his wisdom, chose the vortex.
Today the winds in Ohio are calm and the temperature is slowly returning to normal. The sun reclaims the sky and transfigures the 18 inches of snow in my backyard into a white rolling ocean of beauty. The polar vortex is back in its rightful place and a moment of peace emerges within.
The polar vortex did leave me with a gift that continues to light my path: a new way of imagining my walk with God – a little less gentle and safe and a lot more transformational, breathtaking and inspiring. Sounds just like God, doesn't it?
What is your favorite image of your walk with God?