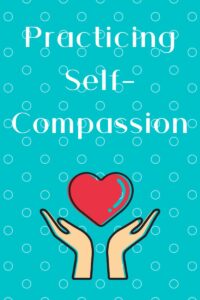 Do you practice self-compassion?
I value self-care. I am learning soul-care. But I never really considered the importance of self-compassion before.
Lately my inner critic has been very mouthy. "I should have known better." "Here I go again. When will I ever learn"?
The world, the pandemic, and the politics wear me down. The devil knows me too well – "let's heap on the discouragement, that will trip Jeanie up!"
God knows me even better. Grace from God isn't just for others, but for our souls too.
I read this definition from Positive Psychology:
Self-compassion is a practice of goodwill, not good feelings… With self-compassion we mindfully accept that the moment is painful, and embrace ourselves with kindness and care in response, remembering that imperfection is part of the shared human experience. (Neff, 2019)

"Self-kindness is about showing kindness and understanding toward ourselves when we fail at something, or when we are hurt (Neff, 2003a). Rather than being critical or judging ourselves harshly when we already feel pain, we can recognize the negative influence of self-judgment and treat ourselves with warmth and patience instead (Gilbert & Irons, 2005)."

"In short, showing self-kindness means treating our worth as unconditional even when we fall short of our own expectations, whether it's through our behaviors or even just our thoughts (Barnard & Curry, 2011)"  
At a workshop a few weeks ago the speaker mentioned being aware of our inner negative dialog but telling those doubt filled and critical voices that "you have a new job now. Your job is to encourage me."
That made me smile.
I read about one additional practice for self-compassion shared by Carrie Newcomer:
"When I encounter delight I try to embrace it with all my heart. That is something my dog has taught me. They live a much shorter time than humans, but holy smokes they live every single second of it with gusto, love and wild appreciation for just being here. But when I bump into the things that are more difficult, when my heart jumps or my mind races, when I'm disappointed or grieving, I lay my hand on my heart and tenderly say to myself "Oh Honey." It sounds like such a small thing, but it can really shift a moment. When I lay my hand on my heart I do it with the kind of tenderness I would give to someone cherished. I do it with the kindness I would have no problem giving to a stranger. I feel the weight and warmth of my own hand and send compassion right down into my body, mind and spirit. "Oh Honey, of course this is hard. Its going to be alright." Now, this does sometimes lead to sideways glances in the doctor's office or an airplane. But really, it can shift the moment so you can go back to the wondrous business of living more like a enthusiastic dog—but now with a sense of real kindness toward the ups and downs of others and ourselves."
Try it.  I find the action of putting my hands on my heart and pausing with kindness for my soul really does help.  Now I am not a "Oh Honey" type of gal so I've modified what I say to merely, "Oh, Jeanie. It will be okay" as I tenderly pat my heart. 
Reminds me of holding a baby and gently patting its back as you smooth its cry. Self-compassion practiced this way is God's way to soothing my cry too. I feel safer. I feel consoled. I feel love.
How do you practice self-compassion?