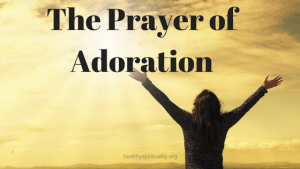 One type of prayer we haven't discussed yet in our pilgrimage into the different types of prayer this summer is the prayer of adoration.
How do we response to God's unending, outrageous, overwhelming outpouring of love?
God who pursues each of us as if there were only one of us. The One who knows our name. Knows the number of hairs on our head. Who loves us so much he sent is only son to save us.
How else can we respond but by adoration?
"Adoration is the spontaneous yearning of the heart to worship, honor magnify and bless God…In one sense, adoration is not a special form of prayer, for all true prayer is saturated with it, It is the air in which prayer breathes, the sea in which prayer swims…We ask for nothing but to cherish him. We focus on nothing but his goodness."
Richard Foster.
How to Build Adoration into our Prayers
As ego-centered children of God, we must intentionally learn, then practice the prayer of adoration. Like reminding our kids to say please and thank you until it becomes second nature, we slowly cultivate the habit of gratitude of known and unknown blessings.
"I need to worship because without it I can forget that I have a big God beside me and live in fear. I need to worship because without it I can forget his calling and begin to live in a spirit of self-preoccupation. I need to worship because without it I lose a sense of wonder and gratitude and plod through life with blinders on. I need worship because my natural tendency is toward self-reliance and stubborn independence."
John Ortberg
Ask God to help you learn to the practice of adoration.
Richard Foster writes in his book on Prayer that adoration has two sides:
   Thanksgiving – where we give God glory for what he has done
    Praise – where we give glory to God for who he is in himself.
Weaving these two sides together serves as a framework for adoration in our prayers.
Music enhances our adoration. Find some uplifting songs of praise to build into your prayers. Pray the words instead of singing lyrics of a favorite hymn or song.
I love the simple practice of using the alphabet to frame my prayer of adoration. Pay attention for adoration words. Develop a vocabulary of praise. Watch for them in your Bible readings or in your spiritual reading. Ponder them as you drive to describe God using words beginning with every letter of the alphabet. You may need to cheat a bit with some letters – X reminds me of the cross for example.
I was driving the other day and the word, THRIVE – came to mind. I smiled and said out loud, "Ok find words about God using all the letters in the word thrive.
T – Teacher
H – Holy One
R – Restorer
I – Inner work – Right now God is doing inner work on my heart
V – Vision – Be Thou My Vision is one of my favorite hymns
E –  Encourager
Have you ever written God a love letter? Searching for and writing out the words that describes your feelings about being loved by the Almighty is a powerful practice.
"Many Spirit-filled authors have exhausted the thesaurus in order to describe God with the glory He deserves. His perfect holiness, by definition, assures us that our words can't contain Him.
Isn't it a comfort to worship a God we cannot exaggerate?"
Francis Chan
Find a favorite praise Bible verse to memorize or to become your verse of the year/month. Here are a few choices:
Bless the LORD, O my soul, And all that is within me, bless His holy name. Bless the LORD, O my soul, And forget none of His benefits; Who pardons all your iniquities, Who heals all your diseases;
Who redeems your life from the pit.
Psalm 103:1-4, NASB
Shout for joy to the Lord, everyone on earth. Worship the Lord with gladness.
Come to him with songs of joy. Know that the Lord is God. He made us, and
we belong to him. We are his people.
Psalm 100:1-3c
Simply come to God without purpose or petition and just be together. Like the following quote, gaze at our Lord while he beholds us in his love:
   Look at God,
   Looking at you…
       And smiling.
     Anthony de Mello
How do you practice the prayer of adoration? What would you add to these ideas?