One day as Jesus was standing by the Lake of Gennesaret, with the people crowding around him and listening to the word of God, he saw at the water's edge two boats, left there by the fishermen, who were washing their nets. He got into one of the boats, the one belonging to Simon, and asked him to put out a little from shore. Then he sat down and taught the people from the boat.
   When he had finished speaking, he said to Simon, "Put out into deep water, and let down the nets for a catch."
   Simon answered, "Master, we've worked hard all night and haven't caught anything. But because you say so, I will let down the nets." Luke 5:1-5 (NIV)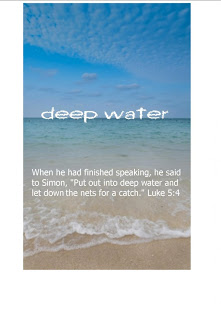 PUT OUT INTO DEEP WATER.
Lord, what are you asking of me? Deep water isn't safe. I can't touch the bottom where I can have control. I drift at the mercy of the waves out there.  I gasp for breath between gulps of salt water. I don't know what is lurking below my feet as I franticly paddle to keep my head above water. And you want me to live this way?
I think I will linger along the shore where the shallow water is so much safer, calmer, and peaceful. Have a good trip…..
I noticed Peter protested too. But wait, he also obeyed.  Rereading this passage I see Peter listened to you, first on the shore while he worked, washing his nets. Then with you in the boat a little from the shore. A gradually pushing out into deeper waters – all the while taking in your words and soaking in your presence. 
Lord I am not sure what deep waters you are calling me into but I see now the sacred process.  Listen, abide,obey. Listen, abide, obey. Listen, abide obey.  
Step by step, always in your presence I learn to trust you no matter the depth of the water. 
I listen, abide, and obey and follow you into deep water.