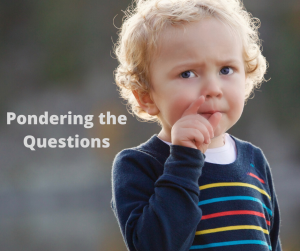 We are in times of uncertainty and many unknowns. Thinking of our present Covid 19 reality reminded me of one of my favorite quotes. Rainer Maria Rilke wrote this in his book, Letters to a Young Poet:
"I want to beg you, as much as I can, dear sir, to be patient toward all that is unsolved in your heart and to try to love the questions themselves like locked rooms and like books that are written in a very foreign tongue. Do not now seek the answers, which cannot be given you because you would not be able to live them. And the point is, to live everything. Live the questions now. Perhaps you will then gradually, without noticing it, live along some distant day into the answer."
While I love to plan and know things for certain, I am gradually learning the value and lessons in listening to the questions whirling around us during this time. What a spiritual practice for all of us to learn and use – a light that will help us thrive in unclear present moments with unknown futures.
Here are some questions I have been journaling, praying, and just holding lightly in my heart:
Whenever I see a question mark in my Bible reading, I pause and ask God if that is a question for me at this time.  Often I return to Genesis 3 – the first question God asks in the Bible: Where are you?  These tiny three words center me and give me space to look intentionally to where I am spiritually at that moment. 
2. Listening to the That Sounds Fun Podcast with Annie F. Downs, her guest on episode 213 podcast, Jon Tyson, shared these questions about this shelter at home time:
What do we do with this time?
What do we need to preserve?
What could we do now that we couldn't do before?
What habits can we build now that we will need later?
How do we anchor these new habits before this window closes?
One insight I gained with these questions, especially the fourth bullet point about habits was the recognition that I have always struggled with excessive snacking (Thus my battle with weight) and even though I have lost 100 pounds this time at home exaggerates my snacking and its power over me.  Now snacking doesn't have power – only if I allow it. And this showed me that often in times of stress, our weaknesses and default lower brain mechanisms take over.  I ask God for wisdom and strength to learn in this time a better in-between eating habit and ways to bring these new habits forward into a lifetime of healthier eating
3. Of course, you have to be asking the right question. One of the best questions I ever heard was from Michael Hyatt and his wise words continue to give me perspective in any tense and hectic situation. He wrote recently "based on more than 40 years of business leadership, I've learned that the greatest challenge leaders face is not the crisis itself but their reaction to it."  His question to ask in a difficult time is this:
"What does this experience make possible?"  Isn't that powerful and forward-moving?
4. James Clear offered this question his last week's newsletter: Who do I know that can help me with this?  This one resonated with me as I am the type who hates to ask (bother?) others for help – wow to admit I am not perfect? Nope, not me!  His words stopped me cold as I knew this was a question, I rarely asked yet needed to be a part of my practice.  Help me Lord to know my brothers and sisters in Christ walk alongside and with me and that we help each other to be shaped by You.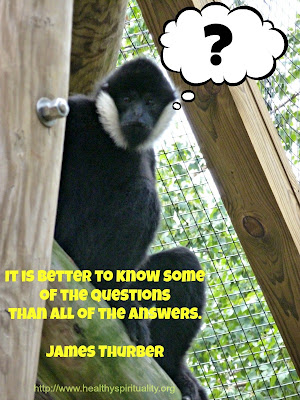 5. One of the most powerful questions is what am I most grateful for? Focusing on gratitude is lifegiving, encouraging, and energizes us to look ahead.
What questions are inviting you to come deeper right now?  I wrote about the spiritual practice of pondering questions is this older blog post that offers even more thought-provoking questions.
It seems to me Lord that we search much too desperately for answers, when a good question holds as much grace as an answer. Jesus, you are the Great Questioner. Keep our questions alive, that we may always be seekers rather than settlers. Guard us well from the sin of settling in with our answers hugged to our breasts. Make of us a wondering, far-sighted, questioning, restless people And give us the feet of pilgrims on this journey unfinished.  

Macrina Wiederkehr
Let's talk about the possibilities of using questions as a spiritual tool. What do you think? What questions do you pray with?