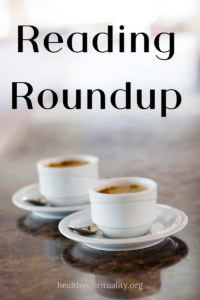 A reading roundup is a collection of articles and posts one person reads, finds interesting, and then shares with another. On a ranch, they "roundup" or gather scattered animals into one place. A writer discovers and compile items of interest then publishes them together.
Imagine you and I meet in the local coffee shop. Of course, I sip on the flavored brew of the day. Go ahead and have tea or whatever you fancy.
I might say to you:
"I read the most fascinating article the other day about…"
"Did you know…?"
"I learned a new idea…"
Here are some of the reading roundups I have collected recently and wanted to share with you. Maybe one of them will resonate in your heart and feed your soul.
Faith and Leadership shared this thought-provoking interview with Phyllis Tickle about the future and the changes of the church.  Be sure to read till the end of the article about how churches need to be anthills.
"Phyllis Tickle argues that Christianity is currently undergoing a massive upheaval as part of a regular pattern that occurs every 500 years, in which old ideas are rejected and new ones emerge. Ultimately, the old expression of Christianity is refurbished and revitalized, while a new, more vital form also is created."
I love receiving the Wonders of the Day email – I always learn something new and marvel at God's amazing creativity.  Like this article on What is the Fibonacci sequence?
Awww, the benefits of awe and wonder. These are even more important during this time of pandemic as shown in this article.
"That moment of waking is an incredible opportunity, and it's quite a tragedy if you go straight to your to-do list." — David Whyte I love listening to his accent as he shares a poem about waking.
I will close with a prayer blessing that touched my heart from my roundup:

I sometimes forget that
I was created for joy
My mind is too busy
My heart is too heavy
Heavy for me to remember
that I have been
called to dance
the sacred dance for life
I was created to smile
to love
to be lifted up
and lift others up
O sacred one
Untangle my feet
from all that ensnares
Free my soul
That we might
Dance
and that our dancing
might be contagious.
Hafiz
May you dance with God this week!!
What have you read lately that fed your soul?