Rejoice in the Lord always;
Again I say rejoice.
Philippians 4: 4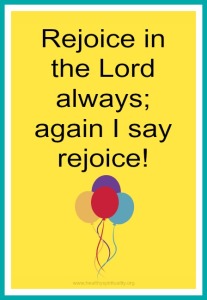 Lord, I can't help but sing that silly children song whenever I read these words.
I am nodding my head as it beats in my head today
and I smile.
I hope you smile too.
But Lord it is so hard at times to rejoice.
The world seems to be falling apart – beheadings, epidemics, wars, bombings.
My stomach churns with fear, doubts, uncertainties.
My restless nights haunted with anxieties, helplessness and vulnerability.
Yet you say rejoice.
Rejoice?
Really?
Yes, rejoice.
Maybe that is why we have to say rejoice again.
Again I say rejoice.
To convince my quivering soul.
To remind me of your promises.
To yield my insecurities into your open and waiting arms.
We do know that you are victorious in the end.
You defeated death and will never abandon us.
You ultimately are in control and in charge.
I can let the world take over my heart
or I can choose to keep my eyes on you and rejoice.
Rejoice.
Again I say rejoice.