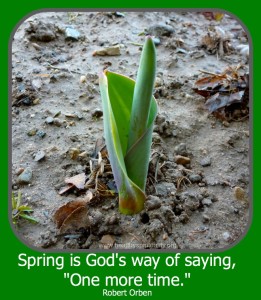 Resurrection!
Our Lord has written the promise of the Resurrection,
not in books alone,
but in every leaf in spring-time.
Martin Luther
Where do you see resurrection in your life?  I often find it in the hope of springtime.
On that first day of warm sunny weather, with the trees bursting with fresh green buds, bird frolicking and blue sky dotted with cotton balls – I have rolled down my car window or stood outside on my deck and yelled, "Welcome back, Spring!"  Yep, I get that excited.
I like Luther's words here about the promise of resurrection. At times, we can't see the next step or what the future holds – we are confused, our vision cloudy, our circumstances dim – but we can hold onto the promises of God that he is with us. That he will show us the way, That someday, not now, maybe not for quite a while but someday – we will see and understand.
Luther also mentioned books. As a professor in a university and a writer of multiple volumes of work, Luther highly valued books. So to set those aside as the source of hope and encouragement and to open his vision to see God beyond human words is amazing.
God is good!  He will keep the promises of resurrection.