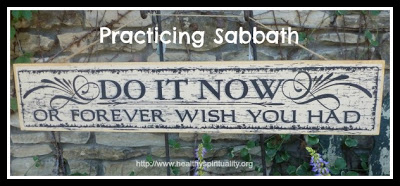 I struggle with keeping the Sabbath. I have gone on retreats about the Sabbath. I even led a workshop on this topic ("those who can't do, teach", right?)
I have read books. I've listened to speakers and preachers.
I joined the wonderful group – the Sabbath Sisters – who share ideas and resources about Sabbath keeping. 
I have even confessed this failure of mine on this blog before.
I don't fully understand why something I say I value, I fail to put into practice.
What is Sabbath to me? I think it is intentionally setting aside a time to honor and be with God. It is breaking from daily routine to rest and to be. Sabbath is letting go, emptying inside of doing, clinging, filling up with noisy clutter in my head and heart.
Sabbath should look and be different from the other days. There is a rhythm to life and even to the workweek that I have lost.
I  turned off the computer on some Sabbaths. I have also snuck peeks at my smartphone since the computer was shut down. I go to church and love the communal worship as part of Sabbath. But something still is missing.
Dust covers my journals.
So what now? I know I am being vulnerable here admitting my failure, but know you will understand. I am seeking conversation with you, my friends on how to restore Sabbath in our lives. I know I can't be the only one struggling with this and the only one who deeply desires to return to this spiritual practice.
What do you think? What have you learned about Sabbath? Ideas on how to reestablish this practice in our busy culture?  And maybe it is more – the age old struggle about having good intentions and failing to act.  What do you think?  Let's talk