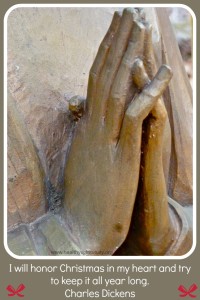 Christmas isn't over yet. Many traditions celebrate the 12 days of Christmas (from the 25th to Epiphany on Jan. 6) with today being number two. Some people call this day Boxing Day.
December 26 doesn't get its due other than the madness of after Christmas sales.
In some countries this day is St Stephen's Day but many more people celebrate Boxing Day.  This tradition started as the day after Christmas was when servants and trades people received their gifts from their bosses called the Christmas box.
The term, Boxing Day, has existed since the Middle Ages though no one knows for sure who it began.  One theory is that is referred to the Alms Box found in church to collect money to help the poor.
One tale implies Boxing Day began with Good King Wenceslas. Remember that carol? Here are the first and last verses:
Good King Wenceslas looked out

On the feast of Stephen

When the snow lay round about

Deep and crisp and even

Brightly shone the moon that night

Though the frost was cruel

When a poor man came in sight

Gath'ring winter fuel


In his master's steps he trod

Where the snow lay dinted

Heat was in the very sod

Which the Saint had printed

Therefore, Christian men, be sure

Wealth or rank possessing

Ye who now will bless the poor

Shall yourselves find blessing.
These lyrics, not written until the 1800s is based on the legend about King Wenceslas, the 10th century Duke of Bohemia, who took a walk on Dec. 26, St, Stephens' Day and saw a poor many gathering wood in a snowstorm. He was so full of compassion to help the man, the King collected food and carried them in the blizzard to the peasant's door.
However Boxing Day began it reminds us to give to others, especially those without much.
I am always fascinated by the urge to give at Christmas time. Why can't that level of compassion be with us all year long?
"I will honor Christmas in my heart and try to keep it all the year."
So hum Good King Wenceslas today, gather up some canned goods for the local food pantry and write a check for a favorite charity. Let's make 2014 a year of giving every day and keep our Christmas hearts open all year.
How will you give this coming year?