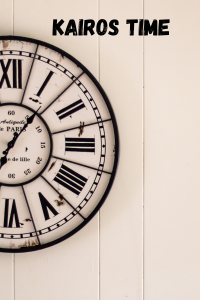 Ever hear of Kairos time?
I heard this term used in a new way a couple of weeks ago so began to explore its history and meaning. I am starting to use two ways to look upon this strange uncertain time we are living in and am finding hope and growth in these moments.
The word Kairos comes from ancient Greek and means right, critical or opportune moment. The ancient Greeks saw time in two formats: Chronos meaning chronological time (and the way we usually view time in our culture as in minutes and seconds) and Kairos or appointed moment or due season.
We ask in Chronos time: What time is it? But the question: what is this time for? carries the meaning of Kairos. What is the significance of this time?
Chronos is quantity; Kairos is quality.
Chronos is man's way of arranging time, to organize, and attempt to control.
Kairos is God's time – in his hands, creative, loving, inviting and shaping.
This time we are living in right now – in a time of pandemic and upheaval – can be held in our hearts both ways. We can complain in a Chronos manner about restrictions, cancellations, and what has been lost. We can look back upon 2020 wishing its time was over.
Or we can change our mindset and hearts to take a wider view through God's eyes and see 2020 (and really all of our moments) through the lens of Kairos.
Think of Karios as an open door, an invitation to reflect and grow. 2020 becomes a time of growth and renewal into new creations. We leave behind what no longer worked and leap into the arms of God in faith and love. Both Chronos and Kairos nurture transformation.
Pay attention and see this time in a new way. Where are you seeing God? How will you look back upon 2020 as a Kairos time, not just a Chronos?
This is how I am challenging myself right now. Join me?