March is Women's History Month or should I say Women's Her-story Month.

 

The Tuesday and Friday posts this month will feature women who lead lives that could serve as models for us in our Christian walk. It was difficult to narrow the list for the few dates in March but I did try to find some women you may not know very well and women writers.

 

Enjoy!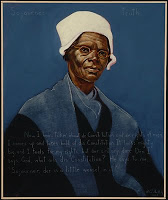 Feisty is a word to describe Sojourner Truth
.  I had to admit I didn't know much about her, but my world is richer now that I have read her story.
Sojourner was born a slave in New York state in about 1797 and was named Isabella Baumfree. At the age of nine she was auctioned off to another owner and over the next few years she was sold several other times. She later said that her first owner once whipped her with "a bundle of rods, prepared in the embers, and bound together with cords." It was during this time that she began to find refuge in religion — beginning the habit of praying aloud when scared or hurt.
Between 1810 and 1827 she had five children with a fellow slave. She was dismayed when one of her sons was sold to a plantation owner in Alabama.


New York State abolished slavery in 1827 and Quakers helped her win back her son through the courts. After a religions conversion in 1843, Isabella took the name Sojourner Truth. With the help of a white friend, Olive Gilbert, she published her book,
The Narrative of Sojourner Truth

. In an introduction to the book,
William Lloyd Garrison

wrote that he believed it would "stimulate renewed efforts to liberate all those still in slavery in America". 


Quite the public speaker she toured the country making speeches on slavery and later women's rights.  When a white man told her that her speeches were no more important than a fleabite, she replied, "Maybe not, but the Lord willing, I'll keep you scratching." 


In 1864 she moved to Washington where she organized a campaign against the policy of not allowing blacks to sit with whites on trains. As a result of this, President Abraham Lincoln received her in the White House.
Truth died on November 26, 1883. Her last words were "be a follower of the Lord Jesus."
What an activist against all odds and a witness for our Lord.
"If the first woman God ever made was strong enough to turn the world upside down all alone, these together ought to be able to turn it back and get it right side up again"
"Truth is powerful and it prevails."