This is my Son, the Beloved, with whom I am well pleased.
Matthew 3: 17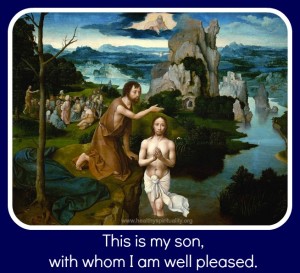 Lord help me remember my baptism.
Every morning when I arise, may I feel the mark of the cross on my heart, claiming me as your child
Remind me that every breath contains your Holy Spirit, filling me with life.
Prompt me to hear you as you guide my steps that I may follow only your path
Soften my heart so I recognize the things that break your heart.
Provide your life-giving water to my dried soul.
Fill me with courage to risk all for you and to give all to you.
Only through you, Lord, will I find the rest for my deep longing.
Remembering my baptism each day,
knowing who I belong to,
and experiencing your loving guidance,
I know someday I too will hear you call me "your Beloved, with whom I am will pleased."