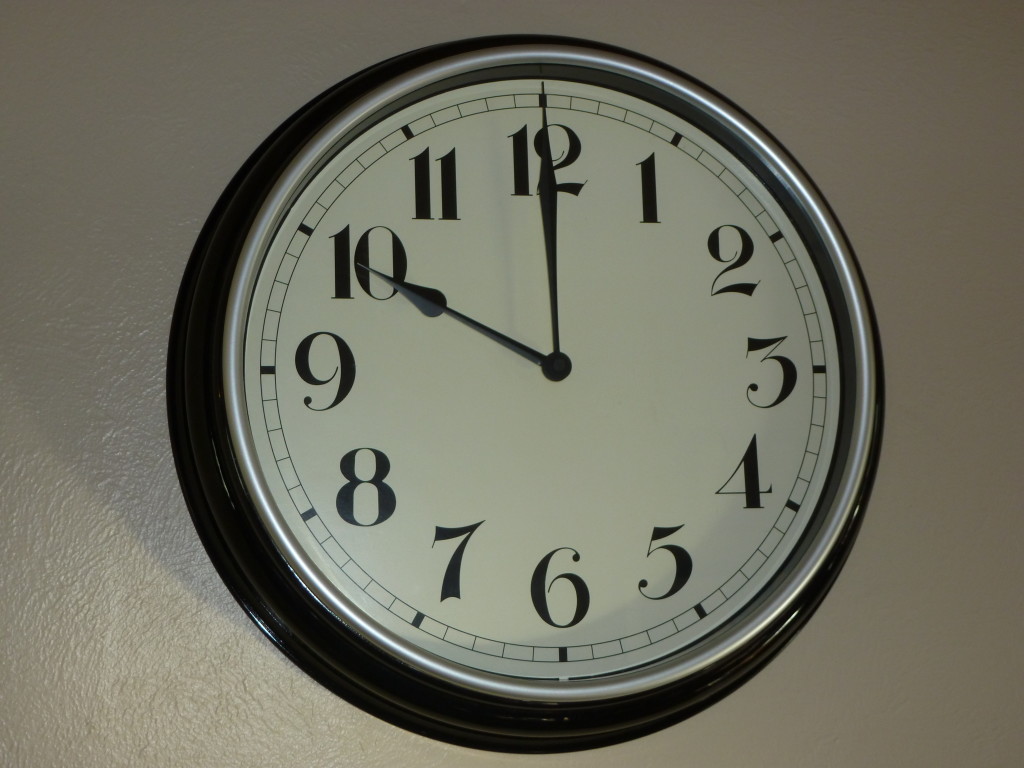 How do we find or make the time for God?
Too often I let busyness distract me or allow my to-do list and calendar to control my day. This sounds horrible, but I find there are times I am just too preoccupied with things of the world and not of God. After many of you completed the survey here last fall, I realized I wasn't alone with this struggle.
Charles E. Hummel observed, "We realize our dilemma goes deeper than shortage of time; it is basically a problem of priorities. We confess: We have left undone those things that ought to have done; and we have done those things which we ought not to have done." Or, as a cotton mill manager once told him, "Your greatest danger is letting the urgent things crowd out the important."
I think it is ironic that we find that we have little time in our lives for the One who created and gave us our time. Many of us want to take some time out for God, but somehow we never quite get there.
So how do we spend more time with God?
I've been pondering this at the start of this New Year so will share some of my thoughts today with you:
1. Converse and commit – I am talking and listening with God about this dilemma. I have confessed my failure with spending more time with him and told him about my deep yearning to be with him more. I have asked for this blessing.
2.  Choices – I can choose ways to make more time with God. I can get up earlier or stay up later. I can analyze how I spend time to find more pockets available for him. What are my time-wasters? Do I spend more time on the Internet than with God?
There are seasons to life. When I had to get up early to get to work or help kids get ready for school, mornings were not a good time for me. Back then, Sunday afternoons became a haven of silence, prayer and journaling. Now mornings do work best when I have my priorities in order. God first.
3. Crush my excuses – I find myself full of excuses and reasons to postpone my date with the Divine. Hogwash. This perhaps has been my major lesson so far in 2014. Slowly I am becoming more aware that many of my reasons for skipping my time with him are just excuses. Name them for what they are, then ditch the excuses.
4.  Create a space and chart my course – I have an office now with a great chair for Bible reading and prayer. What I lack is a good side table for place my Bible and journal on. I am in the hunt for a small one with a couple of shelf, just right for the area.  I then chart my course by having my daily devotional nearby and a pen for my underlining a key verse and recording a quote or a thought in my journal. I am looking now for an additional devotional to use during Lent.
5. Capture moments during the day and chat with him – God shouldn't be pigeonholed into only one small segment of my day. He is with me all the time and peeks into my day in many ways and moments. I am paying attention to those God nudges, asking him to help me see him more in the wonder of the minutes and seconds and chatting with him throughout each day.
6. Carry on – When I forget, neglect or otherwise let my ego take me off course, I change course and come back to God. I have years of practice in multitasking busyness so slip back into this mode very easily. I slowly turn down the volume on my inner critic and the chatter of my 'monkey" brain to be silent before our King. Being gentle with myself, I try again
7. Cherish the Communion – But I have found sometimes everything falls into place and I do sit quietly with God in his loving presence. I cherish those times and savor them. Such joy, peace, guidance and love 
I am curious and want to hear from you. How and when do you take time for God?