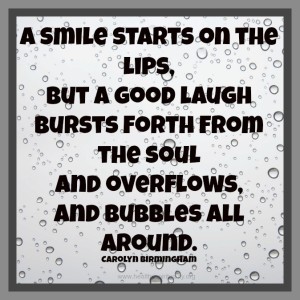 I forget to laugh some days. Laughter is a healthy habit to practice, not only for the physical and emotional benefits, but also for social and spiritual reasons.
What a gift laughter is.
Think how laughter helps you: it reduces stress, recharges your focus, often gives you a much needed break, renews the spirit to find that courage to face a tough situation, connects people on a deep level, and I have read that it stimulates creativity.
I believe the joy found in laughter comes from God.
For the Lord your God is living among you. He is a mighty savior.
He will take delight in you with gladness. With his love, he will calm all your fears.
 He will rejoice over you with joyful songs.
April 1st can be a fun day. Now, I don't like practical jokes but starting this day from now on, I want to build more laughter into my life. We so easily allow ourselves to carry burdens, hurts and childhood baggage – why not drop one of those unnecessary weights and pick up a grin and plop on a smile.
I had fun reading some inspiration about laughter and thought I would share a few with you:
The most wasted of all days is on without laughter.
e.e. cummings
Laughter is the sun that drives winter from the human face.
From there to here, from here to there, funny things are everywhere.
Dr. Seuss
Humor is a prelude to faith and laughter is the beginning of prayer.
 Reinhold Niebuhr
I commend mirth.
Ecclesiastes 8:15
I will follow the upward road today; I will keep my face to the light.
I will think high thoughts as I go my way; I will do what I know is right.
I will look for the flowers by the side of the road;
I will laugh and love and be strong.
 I will try to lighten another's load this day as I fare along.
 Mary S. Edgar
If you become silent after your laughter, one day you will hear God also laughing,
 you will hear the whole existence laughing — trees and stones and stars with you.
 Osho
Laughter is an instant vacation.
Milton Berle
Hearty laughter is a good way to jog internally without having to go outdoors.
Norman Cousins
Laughter gives us distance.
 It allows us to step back from an event, deal with it and then move on.
Bob Newhart
If you're too busy to laugh, you are too busy.
Proverb
The earth laughs in flowers.
e.e. Cummings
Laughter is carbonated holiness.
Anne Lammott
A smile starts on the lips, A grin spreads to the eyes,
 A chuckle comes from the belly;
 But a good laugh bursts forth from the soul,
 Overflows, and bubbles all around.
 Carolyn Birmingham
An optimist laughs to forget; a pessimist forgets to laugh.
 Tom Nansbury
"To laugh often and much;
 to win the respect of intelligent people and the affection of children;
 to earn the appreciation of honest critics and endure the betrayal of false friends;
 to appreciate beauty;
 to find the best in others;
to leave the world a bit better, whether by a healthy child, a garden patch or a redeemed social condition;
 to know even one life has breathed easier because you have lived.
This is to have succeeded."
Ralph Waldo Emerson 
May you find a moment of laughter today and everyday!
Do you open the gift of laughter? What makes you laugh?