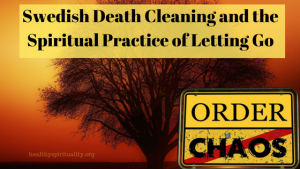 Have you heard of Swedish Death Cleaning?
I read about this new idea – at least new to me – last month as I was writing the series on Healthy Spirituality about the spiritual practice of letting go. Sorting and throwing out all our physical stuff fits our exploration of letting go.
Decluttering is a form of letting go and can be extremely challenging to get rid of piles of papers and those out of sight/out of mind boxes tucked away in the basement and garage. We boldly decide to relinquish bad habits, attitudes and assumptions, but avoid the physical material we accumulate and cling to that encumbers our lives.
I am bewildered by a local television ad about the solution to having too much stuff – just rent another storage unit so you can buy more stuff. We are packrats! Collect more stuff? No, it's time to let go.
What is Swedish Death Cleaning?
Letting go begins with the decision to move from disorder to order, burden to unburden, and confusion to clarity. It starts with mindset.
Swedish death cleaning is knowing that if you were to die today, who would clean up all your stuff? The reality is we are responsible for all the junk we accumulate and our families really don't want most of it. On second thought, much I have stored in boxes I haven't opened for years, I don't want any more either.
This new trend in letting go and uncluttering stresses the slow, systematic sorting and getting rid of stuff so when you are gone that burden doesn't fall upon family and friends.
The essential message means take responsibility for all your junk, collections, and boxes and don't leave them for others. The ultimate purpose of death cleaning is to minimize the amount of stuff, especially meaningless clutter, that you leave behind for others to deal with.
In Sweden, the word is "döstädning." "Dö" means "death" and "städning" means "cleaning." The idea is to remove unnecessary things and get your home in order as you get older.
The Christian Science Monitor reported in an article that baby boomers are slowly realizing their kids don't want their stuff.  Many baby boomers also have stored things they inherited from their parents so two generations of accumulation are stored in basements and garages.
Swedish Death Cleaning – the Book
This concept is based on the book, The Gentle Art of Swedish Death Cleaning: How to free yourself and your family from a lifetime of clutter by Margareta Magnusson.
She writes: "Death cleaning isn't the story of death and its slow, ungainly inevitability. But rather the story of life, your life, the good memories and the bad. The good ones you keep, the bad you expunge…My motto is, if you don't love it, lose it. If you don't use it, lose it,"
Swedish Death Cleaning – Identifying What is Valued and Wanted
Though the name of the movement sounds harsh, the idea fits well with the spiritual practice of letting go. Reading about this concept stirred some thoughts:
Letting go helps me clarify what is valuable in life.
The upcoming holidays are great times to talk with family on what they would want and not want when Bill and I are gone. This difficult decision needs to happen in good times, not the stress filled times of sickness and dying. I remember cleaning up my mom's house after she died and my brothers and I looking for the boxes of 027 American Flyer trains. We all longed to hold onto those as they represented happy family memories. Shocked we learned mom sold all the trains at rock bottom prices at a garage sale. I wish we had told her earlier not to let go of those trains.
My hubby and I have decided to bring up every Sunday one box from our basement to sort and throw out. We've done this the last few weeks and to our amazement, kept very little. So far the strongest and surprising feeling I've experience in this process is freedom – not bad at all.
I am learning to savor the memories in my heart, then let things pass on by donating or recycling. Time to let go.
I hear God calling me towards simplicity and living less encumbered. I hope I continue to pay attention to this invitation and live with less.
My possessions are not my identity. Nor my security.
Decluttering and getting rid of things no longer needed creates space in my home and more room for God in my heart.
Swedish death cleaning sounds morbid at first, but when considered helps me begin to sort and get rid of stuff. One more step in the spiritual practice of letting go.
What do you think of Swedish death cleaning?