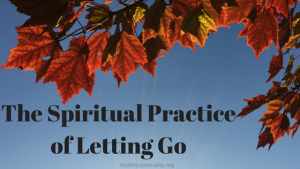 In Ohio, colorful leaves are letting go. Trees model for us the necessity of times to release, shed, unburden our lives as a healthy way to live. Seasons revolve, not precisely, but predictably, teaching us lessons if we pay attention.
The spiritual practice of letting go is perhaps one of the most challenging of the disciplines. One that takes courage to release what is comfortable and known, and step into faith, not knowing what to expect next.
Letting Go is October's Tending the Holy Thursday theme. Each month on my Thursday posts, I pick one theme (or person of faith) to explore in depth over several weeks.
Each month I also include a free download to accompany the month's topic. This month I wrote out for myself and want to share with you a list of "50 Things to Let Go."  These examples are ideas of people, stuff, ideas, and beliefs that we may cling to that no longer fit, serve, or help us in our journey. I don't plan to release all 50 of these at one time, but to have the list copied in my journal to use in my prayers, asking God to show me what fills my heart and mind that block me from him. What do I need to release to draw closer to God? This printable is available at no cost by clicking the button here or at the end of this post. Enjoy!
Letting Go
Though fear of the unknown and what may happen accompany the process of letting go, so do many benefits.
New Opportunities and new beginnings
Growth
Joy of being unburdened
Clarity and freedom
Living the life God wants for us
Healing
Create space for what is better
"Some of us think holding on makes us strong, but sometimes it is letting go."
– Hermann Hesse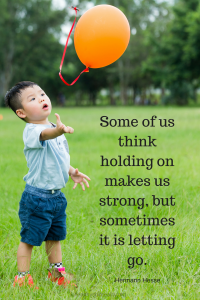 How Letting Go Helps Us
All life is change. Even though we resist changing if we are honest, we admit we are constantly in transition. Strengthening the practice of letting go, shedding the old, frees us to live fully in the present moment.
Letting go helps us face the reality we really don't control life. The only aspect we do control is our attitude. At first letting go sounds like a negative to me until I realize the positive opportunities change brings.
This discussion reminds me of the book by William Bridges called Transitions: Making Sense of Life's Changes. His model of change is not focused on what is lost, but what is gained. Instead of thinking a change from something, a healthy mindset considers change, letting go to be a transition into something. One simple word creates a powerful way to let go.
Letting go is not an end, but a beginning.
Letting Go is Subtraction
There are times for addition and times for subtraction. Thinking about letting go as an act of subtracting, simplifying, and sharpening.
Dropping what burdens us and draws us from God is a practice we all could add to our daily living.
"To sum up, dear friend of Mine, unclench your fists, and let everything fly out of your hands. Clean yourself up nicely and stay faithful to your Creator."
Thomas a 'Kempis
"God is not found in the soul by any kind of addition, but by a process of subtraction."
Meister Eckhart
The Prayer of Release helps me in letting go. I wrote about this practice in this blog post. 
Just writing about letting go has helped me let go of my resistance to this practice. Reframing this concept lessens the fear and anxiety, replacing it with excitement and curious anticipation.
The next few Thursdays we'll explore the practice of letting go with some tips and quotes to ponder. If you haven't subscribed to Healthy Spirituality (see the sidebar for the form) do so now, so you don't miss this series. Don't forget to download the list of "50 Things to Let Go" (Click the button below) to begin to think about what God may be inviting you to release, to let go of this autumn.
What do you think about this spiritual practice of letting go? What emotions does it stir up inside of you? What kinds of things/ideas could be added to the list to consider letting go?  Let's discuss this challenging practice and learn from one another.