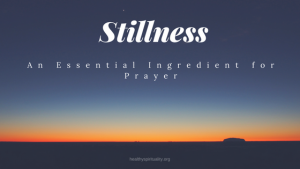 Be Still and Know I am God.
Stillness – this essential ingredient in prayer does not come naturally to me, to many of us. How can we practice more stillness in our time with God?
With 2018 being the year of prayer here on the Healthy Spirituality blog, in April we are looking at the keys of slowing down to spend time with God in stillness, slowness, solitude and silence. Each month this year on the Tending the Holy Thursdays there will be a focus on an aspect of prayer.
On my Thursday posts, I pick one theme (or person of faith) to explore deeper. I call this series Tending the Holy Thursdays.
I updated a handout I used in 2016 called "Slowing Down to be with God" and this will be this month's free guide for you. It contains ideas, resources, and questions to consider when getting off the busyness treadmill to abide, to be with God in prayer. You can download this free guide by clicking the button at the end of the post.
Stillness
The greatest blessing connected with stillness is that we can hear eternity; we can hear the voice of the Eternal One as He speaks to our conscience.
O. Hallesby
I thrive in getting things done. Is thrive the right word?  Maybe addicted/obsessed/focused is more exact. I love being busy/productive. Always having more to do. Accomplishing something. Anything.
To be still is not an automatic, come easy to me, instinct or talent. My "sit still" skillset slips and stumbles.
Practicing stillness is hard for me. Anyone else relate to this?
Yet I am learning to value moments of no movement throughout the day to be with God. Stillness also helps me enter into my prayer time, especially longer times of contemplative prayer.
The key is to intentional choose less actitivy as a vital ingredient in my time with God.
Stillness occurs within my body, my mind, and my heart/soul. And I am observing what is working for me as I explore this practice.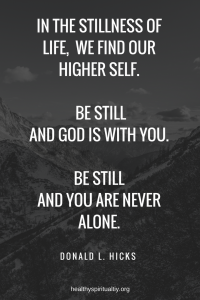 Stillness of Body
The key lesson for me in being intentional about stillness physically is that this skill takes time and practice.
I settled in, relaxing in my prayer chair in a quiet room. I take deep breaths. I notice where in my body I am experiencing tension. Often, I close my eyes. Maybe I pause and look outside at the birds or my garden, even in winter.
At times I am trying to type slower or walk at an unhurried pace the few minutes before I enter stillness.
Only in stillness does the imperceivable become discernible.
Bryant McGill
Stillness of Mind
My thoughts run wild, especially when I am trying to be still. Ideas, plans, future happenings bounce all around and within me. Some people describe this as "monkey" brain. Swinging from one synapse to another, creating an environment overflowing of nervous energy.
Imagining monkeys didn't help me. I chose puppies.
Puppies? Yes, the chaos in my mind are a litter of cute, active puppies, yipping at my feet. I smile. I hush them. I "see" them slowing down and curling up for a nap at my feet. I smile again as I watch their breathing deepen as they snooze, quietly.
I know the puppies will be there when I return to work. Just right now, they are asleep, ready until I am ready to play with them again.
Am I crazy? Maybe. All I know this creative game works and my mind settles into stillness.
Stillness of Heart/Soul
I deeply desire quiet time with God. I asked him in prayer to help me come to him in stillness. To be in his presence "besides the still waters."
I often will repeat Psalm 46: 10, slowly, dropping off a word at a time.
Be still and know I am God.
Be still and know I am.
Be still and know.
Be still.
Be.
I let go of my busyness. My agenda. My fears. My requests.
I focus only on God.
I read this interpretation of the 23rd Psalm by an unknown author the other day:
The Lord is the shepherd of my thoughts;
I shall not want for divine ideas.
He makes me rest in the awareness of my own divinity:
He leads me to the inner stillness.
He restores my soul to its inner purity:
He guides me in the right use of my powers and abilities.
Even though I walk through the valley of the shadow of doubt,
I will fear no evil – for Thou art with me;
Thy power and Thy presence, they comfort me.
Thou preparest an unlimited blessing for me, in every situation:
Thou anointest my head with understanding;
My whole being is filled with the light of Thy understanding.
Surely God's ideas are mine all the days of my life:
And I shall dwell in this perfect awareness forever.
Stillness is powerful. This practice slows me down to be with God and replenishes my soul. Being still creates a space for God and a time to hear my own heartbeat. I have to be intentional to practice stillness, but its value continues to amaze me.
Stillness is just one ingredient I am learning to add to my prayer times. Silence, solitude and slowness also help me slow down to be with God. More on those elements next Thursday.
Don't forget to download your free updated guide "Slowing Down to be with God" by clicking the button below.
What does stillness mean to you? How do you practice stillness?