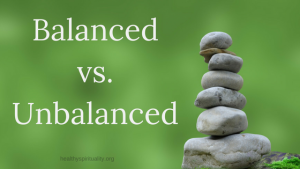 I struggle with the words balanced vs. unbalanced. My unrealistic expectation is to live a life fully balanced and reject the stress of being unbalanced. I've been journaling about these words and listening to God for insight and guidance with juggling these oppositions.
Last week I heard a terrible noise. While doing the weekly wash, the load became unbalanced. In my morning rush I jammed quite a few items into the tub, thinking it would be ok.
At first my washer tossed, thumped, and tried its best to shift the clothes into a reasonable jumble. Then it just stopped.
"I'm done," it said. "I can't move and won't move anymore until you adjust my load."
Here is the display: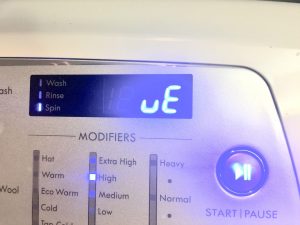 I wish I had a control button like my washer.  One that would flash a cautionary sign that I am getting into overload with projects, commitments, and responsibilities.
My Internal Balance vs Unbalance Toggle
I did correct the weight of the clothes in the washer and she happily went back to her work. But the image of the control panel light lingered in my mind and founds it way into my prayers.
How do I know when I am unbalanced? Are there warning signs ahead of time before I become so overwhelm I shut down like my washer finally did?
If I am honest I know the answer. I know myself well enough to predict the jarring of my spirit when I am overstuffed with tasks and obligations. Here are three early warning symptoms I am getting too unbalanced:
Procrastination – mmm, what else can I do?
Inability to focus and difficult in concentrating.
Overwhelming desire to do anything – cleaning (even scrubbing toilets), to roaming the kitchen, nibbling my way through the cupboards, and going mindless in front of the TV screen or lost down rabbit trails on the Internet – anything other than the more important task at hand.
I need to pay attention to these buzzers in my heart – they do give me notice when my heart, mind, and schedule wobble and waver from the weight within.
How do I restore balance?
I shift the load.
I take some things out.
I plan ahead so the wash schedule isn't overloaded.
I stop and rest.
I know what to do; I fail to do it. Or more exact, I fail to anticipate that overload is part of life and will happen. I could do more though to foresee its coming and take action sooner.
I struggle with living balanced vs. unbalanced.
Balanced vs. Unbalanced – Could It be Both?
The tension between balanced vs unbalanced arises when I think this is an either/or conflict.  If I am learning anything as I age, either/or's are a choice we make. We do have another option. We can also decide to frame our lives as "and/both."
What if life is both balanced and unbalanced?
As soon as I wrote this, I relaxed. Felt at peace. Maybe it is time to let go of my unrealistic expectation of striving to be in balanced all the time and thinking something is wrong with me when I feel unbalanced.
As a nurse, I know the human body is constantly adjusting to changes in metabolism and chemical processes occurring inside each cell. This is called homeostasis.
Homeostasis comes from the Greek word for "steady" and refers to how living things are actively maintaining a stable internal condition. Blood sugar goes up, insulin is released, blood sugar goes down. The heart beat stays in a regular rhythm but increases when we are fearful or running and need more oxygen, then returns to normal. This back and forth is normal. – it is "and/both." Oscillation is a common and necessary function of living.
I have read an airplane in flight is off course 98% of the time and makes continually readjustments to stay in the right direction. This represents an "Both/and" example that I can apply to my life too.
Living both balanced and unbalanced is normal and to be expected. A continual process of being mindful and adjusting to internal and external factors.
Of giving and taking.
Of receiving and giving.
Of growing and letting go.
Yes, living in balance feels good and still can be desired, but we learn and grow from the normal ups and downs of life.
God is constantly shaping us/molding us in our lives. The bumps and tumbles whittle away our rough edges and sculpt our beauty.
I can rejoice in knowing God's plan includes a life full of both balanced and unbalance, a process of being birthed into becoming.
What do you think? How do you know when you are "unbalanced?" How do you cope with living both balanced and unbalanced?