I let my heart go away (Photo credit: WolfS♡ul)
Forty years ago I married Bill. 
Yes this July 15 we will celebrate a milestone. It certainly doesn't seem like that long ago; after all I don't feel that old. 
(Of course I could fudge a little and say something about being a child bride, but I digress…)
   

I am surprised by love. I love him more now than I did in 1972. What a blessing to realize the depth of the tender bond between us after these years.
   

Our kids gave us a weekend get away. The package included hotels and activities we like such as wineries, minor league baseball game and adventures to new part of Michigan we had never visited.

 

They planned well, knowing what we would love to do and see.
 

Their thoughtfulness and ingenuity amazed us, but the definition of the word surprise includes elements of the unexpected and unanticipated.
 

We thought the trip would involve just the two of us.
 

Nope. Our children arranged to have a whole group of our lifelong friends celebrate with us. Friends from childhood, friends from our wedding party and friends we met and bonded with over the years.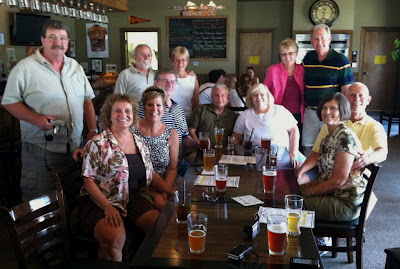 What will I remember most about our celebration weekend?
 

The phrase I kept thinking of the entire weekend was that I was surrounded, embraced, and surprised by love of family and friends.

 
Surprised by love.
God works that way too. He loves to go beyond the expected. Shower us with unanticipated joy. Take us out of our ordinary complacency and hurl us into His extraordinary wonders.
"There is no surprise more magical than the surprise of being loved. It is God's finger on man's shoulder."
God touched us with weekend through the love we receive from friends and family.
I have much to be grateful for:
A loving lifelong marriage.
Family surprising us with love.
Friends surprising us with love.
God always surprising us with love.
How has God surprised you lately with His love?